Having trouble getting started on your fitness journey? A personal trainer in Singapore can provide you with expert knowledge on workout routines and healthy diet plans.
Stay with us as we've compiled a list of the best gyms for personal trainers in Singapore including their services, pros and cons, and more. We'll also answer some questions you might have about personal trainers.
But before anything else, let's take a look at the costs of getting a personal trainer.
How Much Do Personal Training Services Cost in Singapore?
Here's a quick table to give you an idea of how much personal training services cost. Take note that actual prices may vary.
GYM
SERVICES
PRICE RANGE
Oompf Fitness
Personal Training
Group Classes
Spin Classes
Rates
META Performance
Personal Training
Group Classes
Contact for more information
Ultimate Performance
Online Personal Training Programme
$449 USD (1 month) + $229 USD per month thereafter
$759 USD (3 months) + $199 USD per month thereafter
$1,269 USD (6 months) + $179 USD per month thereafter
Fitness First
Personal Training Programme
$112 to $150 (per session)
$706 to $985 (8 sessions)
$1,027 to $1,412 (12 sessions)
SmartFit Pilates
Private Session
$90 to $110
1-Habit Studio
Bespoke Personal Training Programme
$1,596 (16 sessions/4 months)
Level
Personal Training Programme
$130 (per session)
Strength Avenue
Private Training Programme
$150 (2 sessions; first-timers only)
$120 (per session; standard rate)
EzFIT
Home-Based Personal Training
$110 to $150 (per session)
Dennis Gym
Personal Training Programme
$157 (3 sessions)
PT Works
Home-Based Personal Training
$900 (10 sessions)
$1,700 (20 sessions)
$2,800 (36 sessions)
One Personal Training
Personal Training Programme
Contact for more information
Fitness LX
Private Training Session
$120 (per session)
$500 (5 sessions)
$900 (10 sessions)
ATP Personal Training
Private Training Session
Contact for more information
The Posture Lab
Personal Training Programme
$120 (per session)
Personal Trainer Solutions
Personal Training Programme
$110 to $160 (per session; minimum of 4 sessions)
Gymmboxx
Personal Training Programme
$86 (per session)
Genesis Gym
6-Week Personal Training Programme
$1,050 (12 in-person sessions)
Fitness Tutor
Private Training Session
$1,450 (10 sessions)
Guru Fitness/Coach Sharm
Online One-to-One Personal Training
$59 (per week)
Fitness Bravo
Personal Training Programme
$80 to $100 (per session)
Unreal Personal Training
One-to-One Personal Training
$120 to $200 (per session)
Fitluc
Gym Trial Session
$50 (one-time trial fee)
JG Fit
Remote Coaching
$299 to $1,199 (per package)
The Best Gyms For Personal Trainers in Singapore
In no particular order, let's proceed to our picks of the gyms for the best personal trainers in Singapore!
1. Ultimate Performance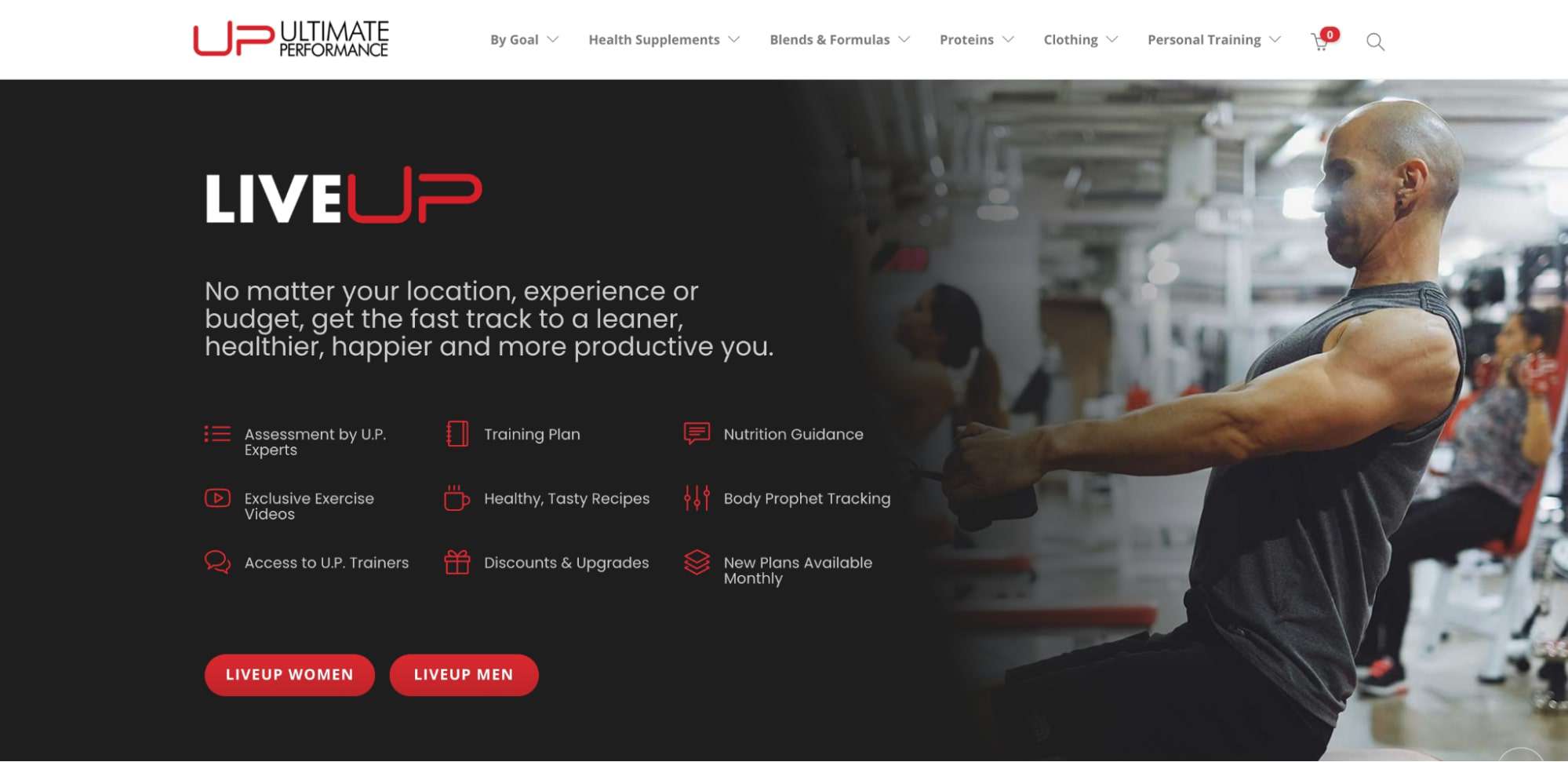 We're kicking things off with Ultimate Performance, which is considered as one of the go-to gyms for personal training in Singapore and around the world.
They pride themselves on having a science-based approach to their personal training methods, which is part of collaborative research with scientists at Cambridge University.
Conveniently located in Manulife Tower, their on-site training programme will include an in-depth consultation, as well as a personalised training programme and diet plan, to name a few. You'll also gain access to their gyms globally—perfect for jet-setters and business travellers.
Because of this wide access, this may not be suitable for those who won't make use of this perk as they can be quite expensive.
Otherwise, you can also avail of their personal training programme from the comfort of your home. Inclusions contain those mentioned above except global access to their gyms.
Instead, you're given special access to a progress tracker app—a tool that tracks various markers of your progress including weight, fat, blood pressure, and more.
The app will also allow your personal trainer to easily refine your programme, and accelerate your progress as necessary.
Online programme available
Multiple locations available globally
Free initial consultation
Discounts available
Shorter hours on Sundays
Relatively expensive monthly plans
Customer Reviews
Check out some reviews by clients who trained with Ultimate Performance Fitness below:
"Exceptional outcomes! They are true to their motto of delivering results and not just making promises. I lost 23% of my body weight in just 5 months. Ahmad Zaki my trainer is fantastic. He tailored his approach to suit my personality and was sensitive to the challenges I was facing. I managed to achieve my interim goal because of the collaboration and partnership with Ahmad. He pushed hard enough so that I would go beyond my comfort zone but not so much that I would give up. I'm taking a two month break because I'm travelling but can't wait to start training again. If you're truly looking to get results this is the place to go to." —Dhruv Agarwala, Google Reviews
"Training with UP DEFINITELY changes my lifestyle. Now, I not only recover from my knee and shoulder injuries from previous incorrect exercises, but also rejuvenate and feel like 21 years young rather than 41 years old! Despite the fact that the nature of my job required me working till late hours, I manage to get the results — from 21.7% body fat to 12.7%! by simply following my trainer Kumar's instructions. I believe everyone can achieve their ideal beach body. Ensure you DON'T skip your training sessions and listen to what your PT said. And then, Voila! You will surprise yourself with what you have achieve at UP Fitness! 😊" —James Lin, Google Reviews
2. Fitness First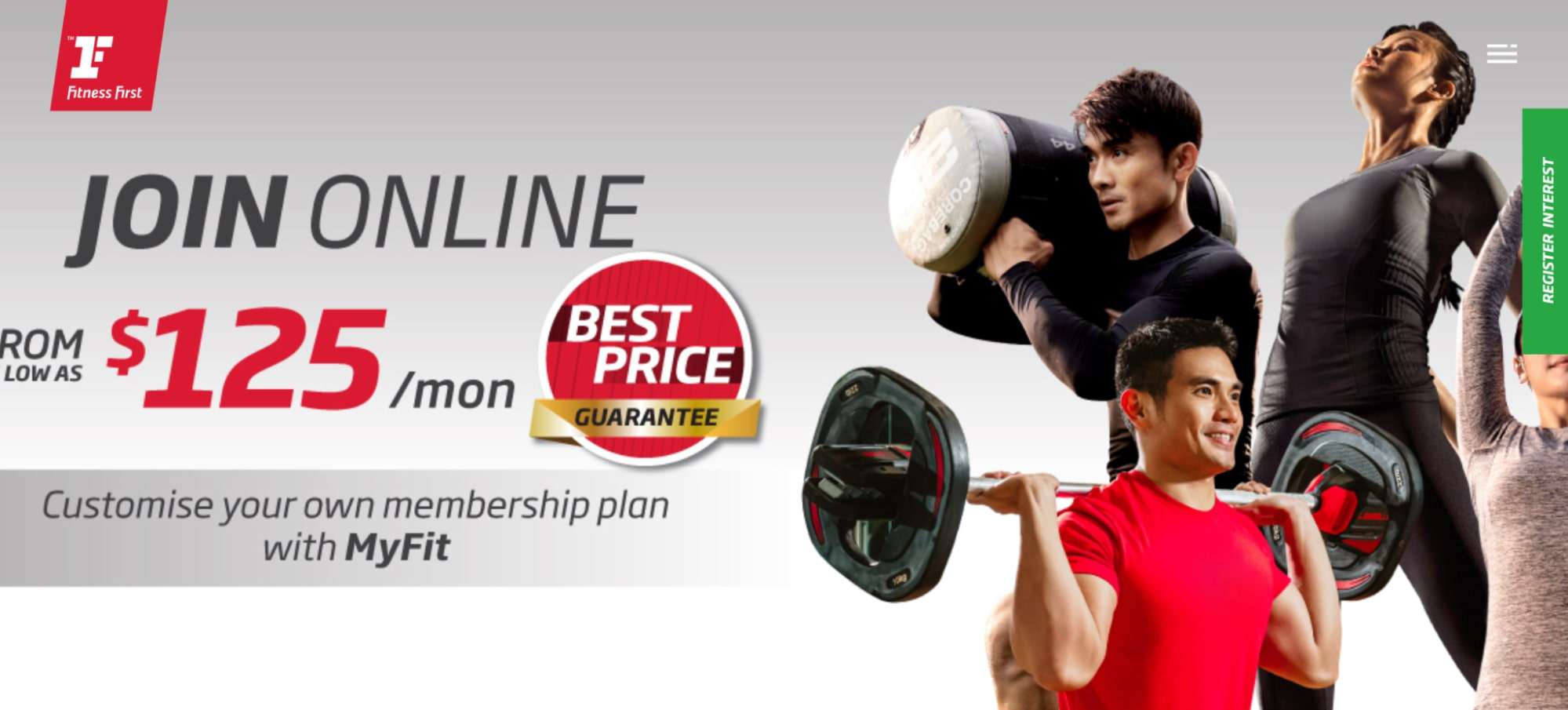 Fitness First is one of the most popular gyms in Singapore and Asia. Known for their facilities, their team of personal trainers are not to be overlooked.
Their personal training program focuses on improving your posture, mobility, strength, stamina, and endurance. Each session takes about 40 minutes to an hour, where your trainer will show you exercises that you can incorporate into your routine.
With several branches across Singapore, you can easily find one that best suits your route and location. Otherwise, you can also get an online personalised training programme so you don't have to leave your home.
Furthermore, you can register to get a complimentary online personal training session so you'll know what to expect. You also have the option to book a one-time session on-site to determine if their services are right for you.
Because of the convenience of their locations, we think this is the gym with the best personal trainers in Singapore if you have odd hours for working out.
Several branches available
Online programme available
Complimentary online session available
Membership benefits apply
Some branches are closed on Sundays
Relatively expensive rates for non-members
Customer Reviews
Check out what clients had to say about Fitness First:
"Great equipment. Very clean. Their pool is nice too. Bring your own conditioner/face wash if you plan on taking a shower. They have only body wash and shampoo. Overall a really good gym. They provide active wear too, which is really convenient for people with crazy work schedule." —Maithili G, Google Reviews
"Awesome gym! Perfect hygiene, great equipment, even during peak hours there is still enough room to work out. Mind you, it does not have a pool like some of its sister locations, but the excellent weight area more than makes up for that!" —Quinten Doornbos
3. Oompf Fitness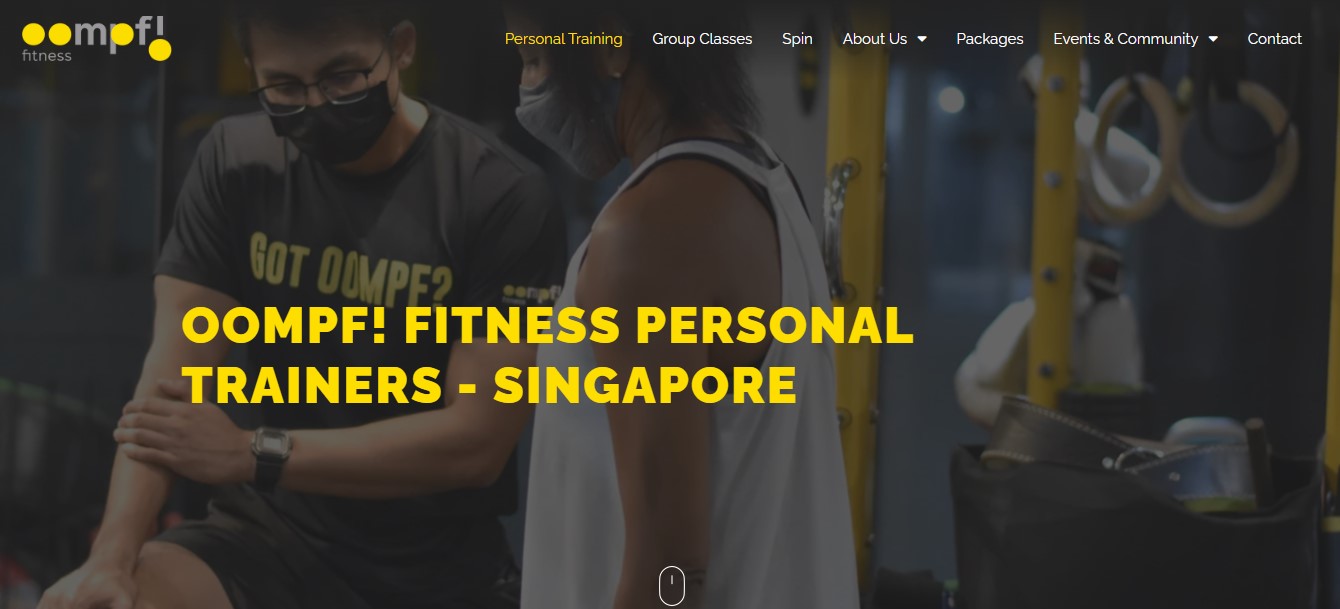 SERVICES
Personal Training
Group Classes
Spin Classes
WEBSITE
https://oompf.com.sg/
ADDRESS
130 E Coast Rd, Singapore 428815
CONTACT DETAILS
Tel: +65 8878 5659
WhatsApp: +65 8878 5659
Email:

[email protected]

OPERATING HOURS
Weekdays: 7:00 am – 9:00 pm
Weekends: 8:00 am – 6:00 pm
PH: 8:00 am – 12:30 pm
Oompf Fitness is a private gym that is meant for unlocking your potential. Like other trainers, they will create a customized fitness program for you.
This program will definitely push you to your limits, break your boundaries, and let you experience a transformation!
However, what makes them stand out from their competitors is their private gym. With them, you will never have to worry about the gym being crowded and sweaty.
Another factor we love about them is how their gym is fully equipped with a great range of cardio, strength, and conditioning equipment. Aside from these, their refreshment area is also complete with towels, hair dryers, shampoo, conditioner, and soap.
Their personal trainers cost $95 to $135 per hour, and to be honest with you, they are already the most affordable gym in the area.
And with them, the longer you can commit, the cheaper it will be for you.
Open every day; even available during public holidays
Offers numerous packages
Only has one female trainer
Customer Reviews
"Personalized fitness where they'll keep track of your progress so that you can work toward your goal. The gym is cozy, not too large that it's intimidating, but enough to have all the necessary equipment for working out."
"I love coming here. The trainers and staff are very personable and I feel very welcome each time I am here. The environment is clean, nice and chic. The gym equipment is cool, quite different from other gym. I look forward to each training session as I build in my fitness level."
"Stumbled upon this little gem while i was making my way to Katong mall. The bright yellow circles first caught my attention. I walked in and was surprised by how clean and cozy the studio felt!"
4. 1-Habit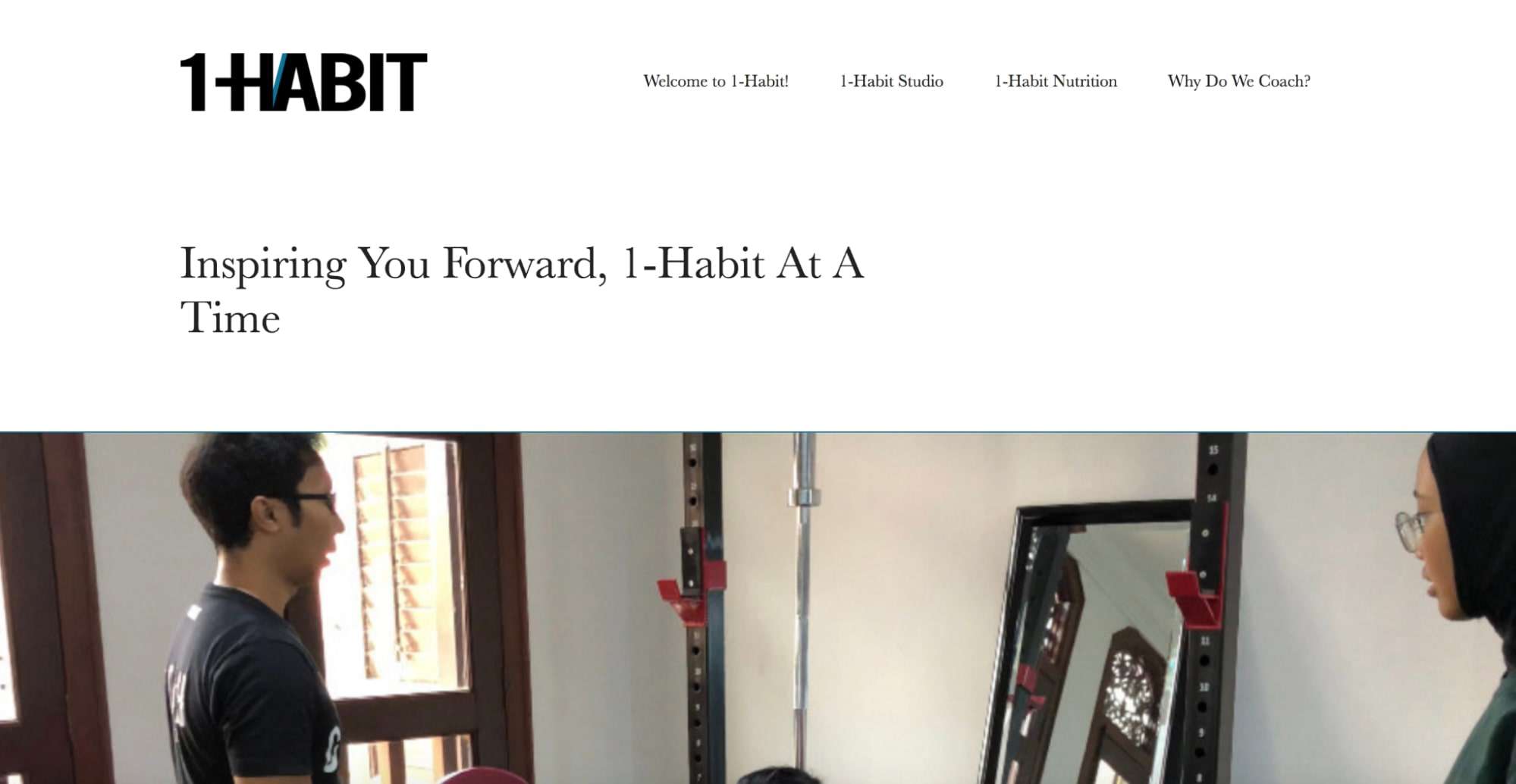 SERVICES
One-to-one bespoke training, online/face-to-face small group training, at-home app training
WEBSITE
https://1habit.co/
ADDRESS
51A Bussorah Street, #02-01, Singapore 199467
CONTACT DETAILS
+65 9835 4562 (WhatsApp)
OPERATING HOURS
Mon to Fri: 8:00 am to 10:00 pm
Sat: 8:00 am to 2:00 pm
As their name suggests, 1-Habit hopes to encourage their clients to learn and master one fitness habit at a time.
To give you a glimpse of their personal training programme, 1-Habit will first match you with a qualified trainer who will build a personalised plan just for you.
Next, they will pair you with a nutrition coach who will help you handle your diet and calorie intake. You'll be working with both trainers to ensure your progress and schedule are on track. This is why we think they're one of the best services for personal training in Singapore as they approach fitness holistically.
Apart from individual sessions, bespoke programmes also include small group classes. They have monthly memberships that allow members to participate in as many group classes as they want in a month.
Otherwise, you can choose one of their programmes designed for those who wish to stay at home, which can be conducted through a small-group livestream or an app.
We also like that introductory classes and initial sessions are free of charge and obligation for everyone. You can freely decide whether you want to push through with their programme or not.
Online programmes available
Includes a nutrition coach
Small group classes
Convenient location
Free introductory session
Only one location available
Closed on Sundays
Shorter hours on Saturdays
Customer Reviews
Here's a glimpse of what some clients have to say about 1-Habit:
"I first knew about this gym about a year ago through a friend, and ever since then, I keep coming back. I do enjoy the classes offered here, especially the Strength ones! I believe it is important to have coaches who are supportive and keep you motivated and empowered. Besides that, I've met amazing people who are friends now 🙂 location wise is accessible, a stone away from the Sultan mosque @ Bussorah st so it is convenient for me to go for evening classes after my prayers. Also, they're on Classpass, give it a try to see if you like it!" —Diana Ishak, Google Reviews
"I've enjoyed every minute of my time here. Meeting people with the same goals and mindset has made my journey to be healthier a tad bit easier. Losing weight and getting stronger is no longer dreadful and lonely. Thank you 1-Habit for allowing me to discover sides of me I never knew existed!" —Nur Adawiyati Kamal, Google Reviews
5. Strength Avenue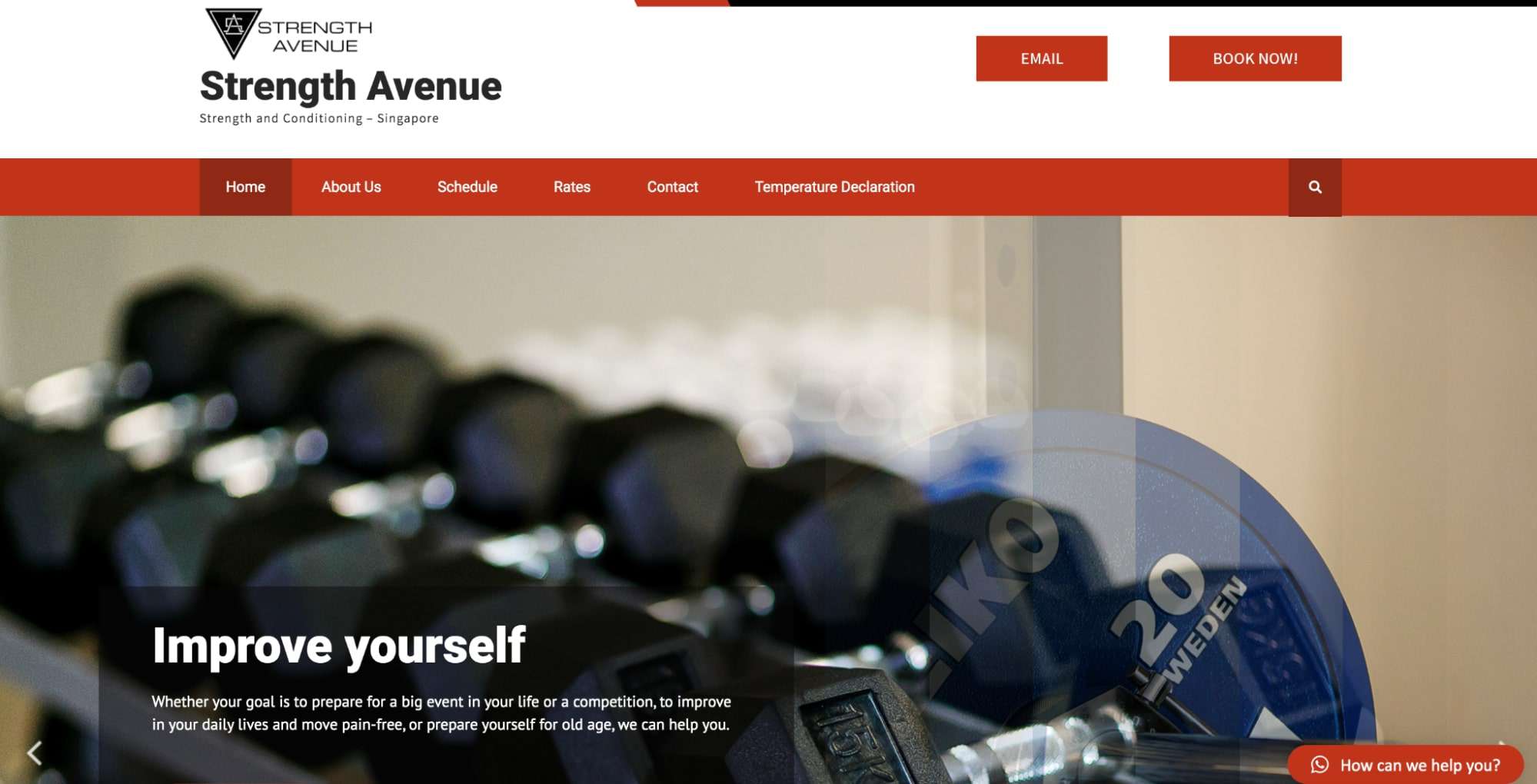 SERVICES
Private training, semi-private training, nutrition coaching, athlete performance, powerlifting coaching, giveroy coaching
WEBSITE
https://strengthavenue.com.sg/
ADDRESS
57B Boat Quay, Singapore 049846
CONTACT DETAILS
+65 8803 9872


[email protected]

OPERATING HOURS
Mon to Fri: 7:00 am to 9:00 pm
Sat: 9:00 am to 4:00 pm
Sun: 9:00 am to 3:00 pm
For those who wish to focus on strength training, Strength Avenue is one of the top choices. Mainly, this gym trains athletes for sporting competitions and weight class management, particularly in giveroy and powerlifting.
But don't be intimidated—they offer personalised training programmes and nutrition coaching to everyone regardless of their skills and fitness level. Apart from individual training, you can also come in with a friend or two, thanks to their buddy training programme.
They only have a small team of trainers, which may mean limited availability. You may contact your preferred coach directly or you can simply call the gym, so they can match you with a suitable coach they deem fit.
Unlike other gyms and studios, they don't offer complimentary initial personal training sessions. However, they do provide first-timers with discounted rates in their private training programme and semi-private programme.
Overall if your goal is toning, muscle building and strength improvement, this could easily be one of the best personal trainers in Singapore for you.
Ideal for strength training
Relatively affordable rates
Buddy training option available
Nutrition coaching available
Discounts for first-timers apply
Only one location available
No online classes
Limited availability due to small team
Customer Reviews
As expected, clients preferred this gym for strength training as evidenced by comments below:
"Strength Avenue is my favorite weight-lifting gym in Singapore. I have been taking private coaching from Andyn and have attended classes conducted by Daphne and Pen for the last several months. I usually go to their gym 3-5x a week (I like it that much).
I appreciate their minimalist, client-centric, value-for-money approach. The gym exists for strength building (no machines – no clutter). They have an obsessive focus on technique, form and mobility (vs. just how heavy you can lift) – and I mean this as a compliment. This gives me comfort when lifting progressively heavier weights. I strongly recommend this gym for those interested in powerlifting – including those who like me are relative beginners." —Swajit Rath, Google Reviews
"I first joined SA in September 2018 to kick up my strength training (as I seem to have plateaued in the big gym of which I was previously a member). Since then, I have never looked back. Almost years later, I am stronger, healthier, have much better body awareness, and above all lifting weights properly. Andyn, Pen, and Daphne are all excellent. I cannot recommend this gym enough!" —Malou San Andres, Google Reviews
6. EzFIT

Most home-based training programmes are conducted through online means but not EzFIT. Instead of spending time and money to travel to a gym, their personal trainer will come to you, no matter where you are in Singapore.
You don't have to worry about not having enough equipment and training tools because your trainer will take care of those for you.
Not only that, but clients aren't restricted to a certain period of time for their workouts as their services are available 24/7. For these reasons alone, we highly recommend EzFIT for home-based personal training programmes.
If you have a child in the household, you may also be pleased to know that they offer personal training programmes designed just for kids. A dedicated trainer will teach your child that exercising and eating healthy can be fun too, if it's something that you struggle with.
Hands down, if you want to train as a family or if you have children that you want to keep fit, EzFIT could have the best personal trainers in Singapore for you.
Wide range of programmes available
Services available anywhere in Singapore
Kids personal training
Equipment provided
Free consultation
Available 24/7
Not suitable for those who want a gym environment
Trainer subject to availability
Relatively expensive rates
Customer Reviews
Some sample reviews include:
"Vanan is an excellent trainer with great patience and understanding of a particular individual's requirements to achieve short, medium and long term outcomes. His sessions are varied, rarely humdrum, and it's a real pleasure to burn through some calories and get great conditioning over 45-60 mins. Look forward to more!" —Vivek Couto, Google Reviews
"Had my sessions with Haylie since February this year. Understanding my needs, Haylie programmed our sessions accordingly. I can feel that my core strength is back gradually. And Haylie is a great home based trainer in the sense that she has been a good communicator and flexible for my schedule. Would recommend Haylie to anyone who is looking for an effective home based training program." —Alice Pottier, Google Reviews
7. PT Works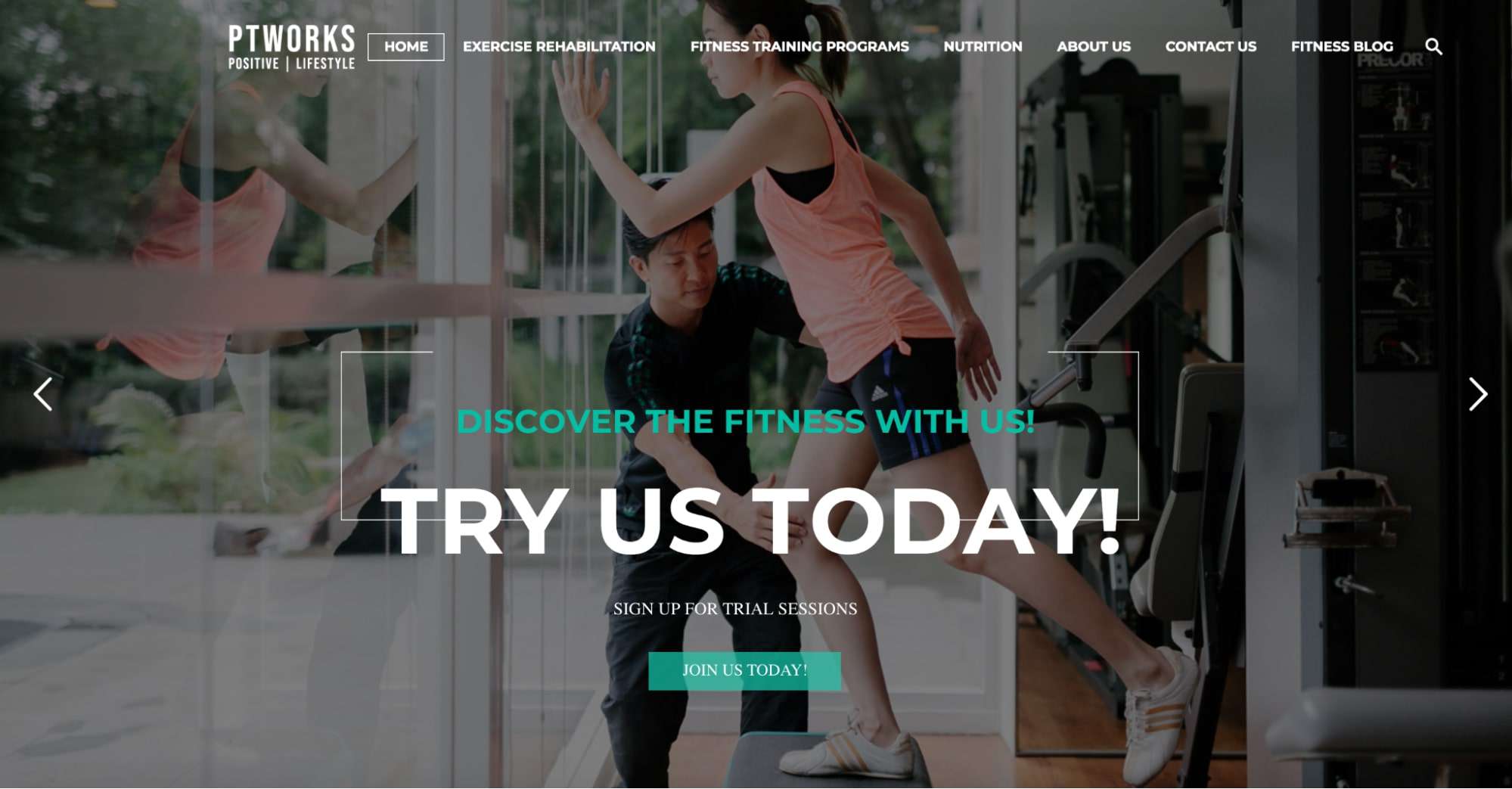 SERVICES
Functional training, flexibility training, fitness training programmes, home-based programme
WEBSITE
https://ptworks.sg/
ADDRESS
Can meet you anywhere in Singapore
CONTACT DETAILS
+65 96941358


[email protected]

OPERATING HOURS
Mon to Wed: 6:00 am to 9:00 pm
Thurs to Sat: 6:00 am to 10:00 pm
Sun: Open 24 hours
PT Works is all about creating a tailor-fit programme suitable to your needs and budget, all from the comfort of your home.
Whether you prefer to be trained in your living room or at your community park, though, they can accommodate clients all around Singapore anytime and anywhere.
If you're looking to be surrounded by gorgeous views and like-minded company, we recommend taking their boot camp classes and crossfit-style workouts. These programmes are held in 2 accessible locations: Botanical Gardens and Marina Bay Financial Centre.
Their personal trainers in Singapore specialise in strength and conditioning, as well as post-injury rehabilitation. Moreover, you can ask them to meet with you anywhere for a trial class and free fitness consultation.
Note that there are only 4 trainers on their team, so it's best to book your session beforehand so they can accommodate you on your preferred schedule.
Wide range of programmes available
Services available anywhere in Singapore
Ideal for home-based personal training
Outdoor classes available
Free trial class
Limited availability due to small team
Minimum commitment of 10 sessions
Customer Reviews
Take a look at some reviews about PT Works services:
"Sean is an amazing trainer who not only understands fitness but also the human body enabling him to effectively get you lean and fit in a safe and structured way. He makes the training session both challenging and fun and takes a personal interest in helping you achieve your goals. No session is the same and he regularly brings in new equipment and techniques so you never get bored. Highly Recommended!" —Raj Bharij, Google Reviews
"Grateful for Sean who is an excellent coach. He has helped me to get back in shape and improve on my fitness, while picking up the real fundamentals and techniques of Muay Thai! I'm not a work out fanatic but I look forward to his training sessions every week. He is knowledgeable and his passion for sports and fitness is infectious. 5 stars and highly recommended!" —Cheryl Chan, Google Reviews
8. One Personal Training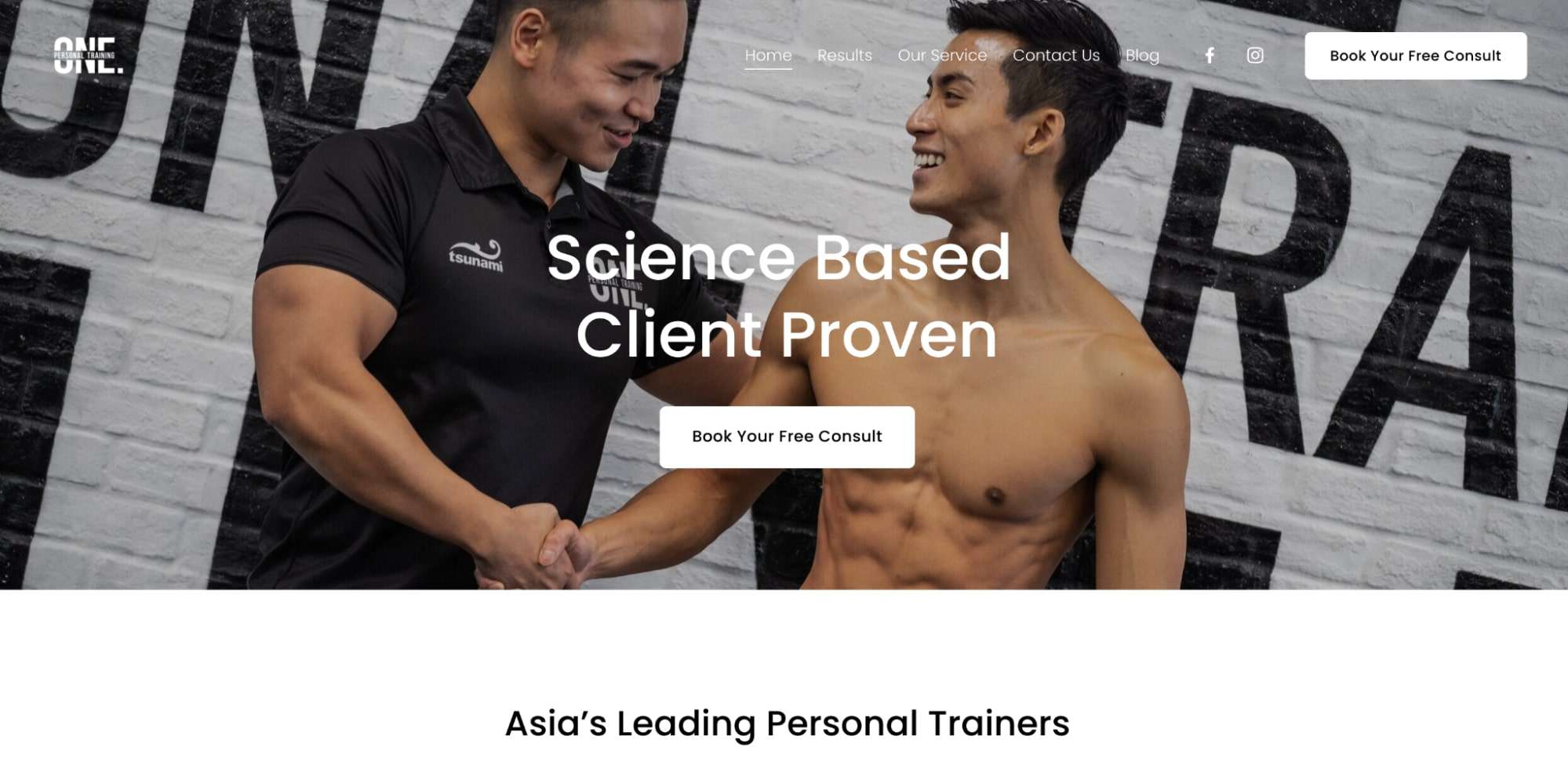 One Personal Training is dedicated to helping their clients set realistic goals and achieve desirable results. Focused on building lean muscles and burning body fat, this no-frills programme is for you if those are your goals.
At the beginning of your assessment, a certified trainer will measure your current body composition, fat percentage, and ability to perform certain exercises. From there, your personal trainer will create nutritional and workout plans just for you.
Because they're committed to creating long-term results for their clients, you can either choose their 45- or 90-day plan as a starting point, which can be extended as much as you'd like. You might want to skip this one though if you can't commit to a certain period.
There are no trial sessions for those who wish to get a feel of their services, sadly. However, clients can book a free 30-minute consultation for a discussion of their services and methods.
If you want long-term results and not just quick sudden weight loss or toning, One Personal Training could easily be the best personal trainer in Singapore for you.
Long business hours
Convenient location
Free consultation
Minimum commitment of 45 days
Closed on Sundays
Only one location available
Customer Reviews
Check out some reviews by former clients below:
"Henry takes the time and effort to craft a program which is tailored to my goals with regular reviews over the past 9 months to make sure we are on track. Also learnt tips and tricks for getting the most out of individual exercises which I thought I was familiar with. Best was getting into the habit of tracking food intake and awareness of the food I'm taking. Significantly better progress and accountability compared to training alone!" —Yun Song Choo, Google Reviews
"If you are serious about kickstarting your fitness journey, onePT is definitely it. The personal trainers here are at the top of their game. They know everything about dieting, nutrition, cardio & strength training. I was personally coached by HENRY (IG: tinyaesthetics) and he's brilliant! In addition, coming to the gym feels like coming home, literally. Everyone here is so warm, friendly and supportive. To my fam at OnePT, thanks for your invaluable guidance. Hand to heart, you guys are simply the best!" —Edmund Toh, Google Reviews
9. Fitness LX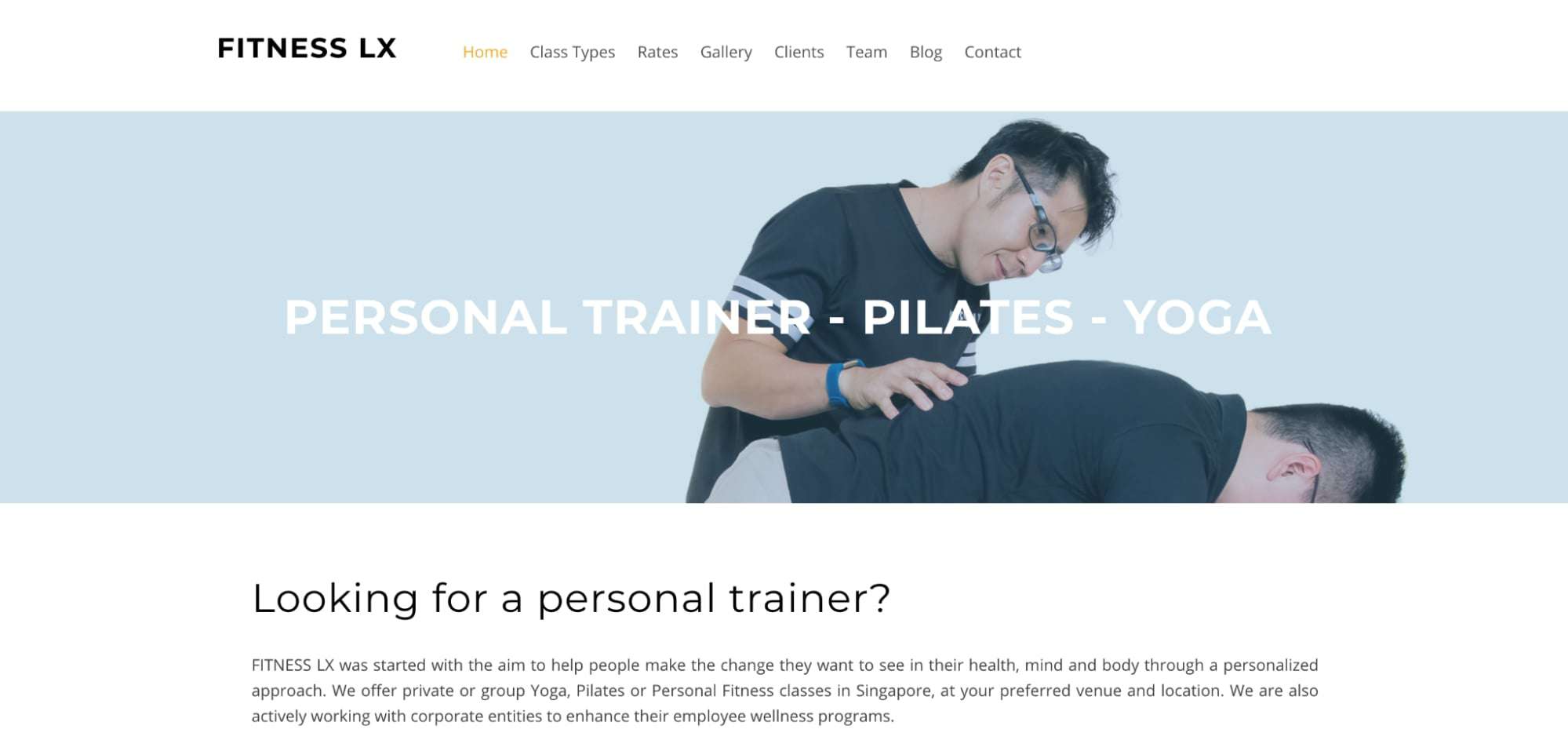 Looking for a private yoga or pilates instructor? You can enjoy a fully-customised private session anywhere in Singapore with the help of Fitness LX's instructors!
Many agree that workout sessions are more enjoyable in pairs. You'll be glad to know that you can bring a friend to a private session, which, unlike other gyms, isn't charged per participant.
Yoga and pilates may be their specialties but they also offer personalised workout plans for individuals and groups. They also hold zumba classes for a minimum of 3 people, which can also be held at a location of your choice.
We like that no long-term commitments are required as you can simply book one session at a time. Otherwise, you can also purchase 5 or 10 sessions in advance to get discounted rates.
Take note that bookings must be made at least 3 days in advance of your preferred schedule, subject to availability. There are no refunds for cancellations or reschedules done within 24 hours of your scheduled session.
In general, this is the best personal trainer in Singapore for you if you prefer Yoga or Pilates for your fitness regime.
Ideal for yoga/pilates private sessions
Services available anywhere in Singapore
Long business hours
Discounts apply for 5/10 sessions
No free initial session
No refunds for cancellations
Non-transferable and non-extendable
Customer Reviews
Some comments about Fitness LX are as follows:
"​Kim is a brilliant yoga teacher and guide. I decided to take up yoga in my mid forties and Kim was my teacher for 3 years. Her classes were challenging but she explained in detail what she was working on and the muscle groups she wanted to help me with and only moved on to different, more advanced poses once we were both confident that I was ready.
Kim's greatest skill was her patience. There were a few bad sessions and in those she would calmly explain how the body can do this but that the muscles were still learning and that it was fine to work at a lower level of intensity. That gave me the confidence to persevere and after the 3 years I am fitter, stronger and more flexible than I have been for years. Thanks Kim." —Sam (Private Client), Website Testimonials
"Jonathan is a coach that make sure he plans the training accordingly and progressively for his client. My overall experience with him so far has been good.​" —Aiying (Private Client), Website Testimonials
10. ATP Personal Training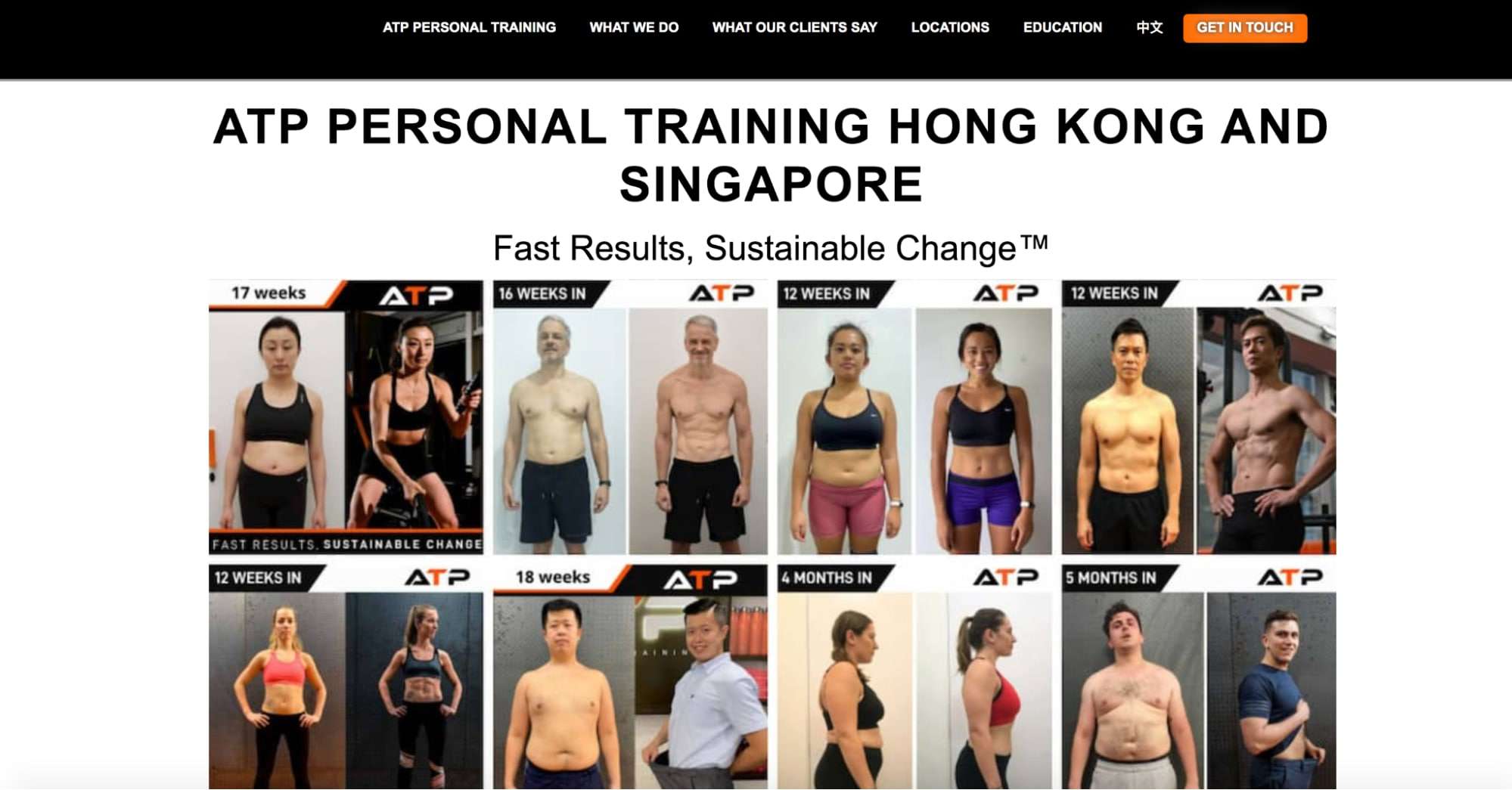 SERVICES
Personal training
WEBSITE
https://atp.fitness/
ADDRESS
105 Cecil Street, #01-01, The Octagon, Singapore 069534
CONTACT DETAILS
+65 8189 1789 (WhatsApp) or +65 6721 9588 (tel.)


[email protected]

OPERATING HOURS
Mon to Fri: 5:00 am to 10:00 pm
Sat: 7:00 am to 6:00 pm
Sun: 8:00 am to 6:00 pm
ATP Personal Training views fat and weight loss as a collaborative process between the client and the personal trainer.
During the planning phase, a qualified trainer will understand everything about the client—from their history, current circumstances, down to future goals—in order to design a plan that will yield long-term results.
Expect to visit the gym at least once a week for your workout programme, coupled with a carefully-managed exercise plan that you can do at your home or preferred gym.
On top of that, the programme also comes with a diet plan designed just for you, which your trainer may update weekly or as necessary.
Outside of gym hours, you can freely contact your trainer for advice or any help needed. Likewise, your trainer will also encourage you to stay on track even when you're not in the gym.
Unfortunately, because training programmes are tailored to the amount of time you can commit, you won't find any of their standard rates online. Instead, you can book a free consultation where you can discuss everything that's needed prior to making a commitment.
If fat and weight loss is a huge part of your fitness goals, then ATP might just be the best personal trainer in Singapore for you.
Free consultation
Long business hours
Trainer support provided outside of gym hours
Flexible workout arrangements
Only one location available
Rates unavailable online
Customer Reviews
Here are some comments written by clients who trained with ATP Personal Training:
"ATP provides excellent personal training. Trainers who really care and go above and beyond to help you achieve your goals, especially Coach Darren, who has helped me in my progress in achieving my desired body goal. Private gym that feels more personal. Highly recommended!" —Bryant Chendra, Google Reviews
"I have been overweighed since my early 20s. After reading the good reviews online, last month I decided to try ATP Singapore's 12-week transformation program. Within less than 5 weeks, I have already lost 4kg, and the body shape is improving visually. All thanks to coach Darren, he not only provides professional guidance on the physical exercises, but also offers the suggestions on nutrition and daily routine all the time. The progress couldn't be achieved without him! I am super happy about my choice and really look forward to the future trainings. For anyone who wants to reduce the weight or improve the strength, I would highly recommend ATP & coach Darren." —Leping Shi, Google Reviews
11. The Posture Lab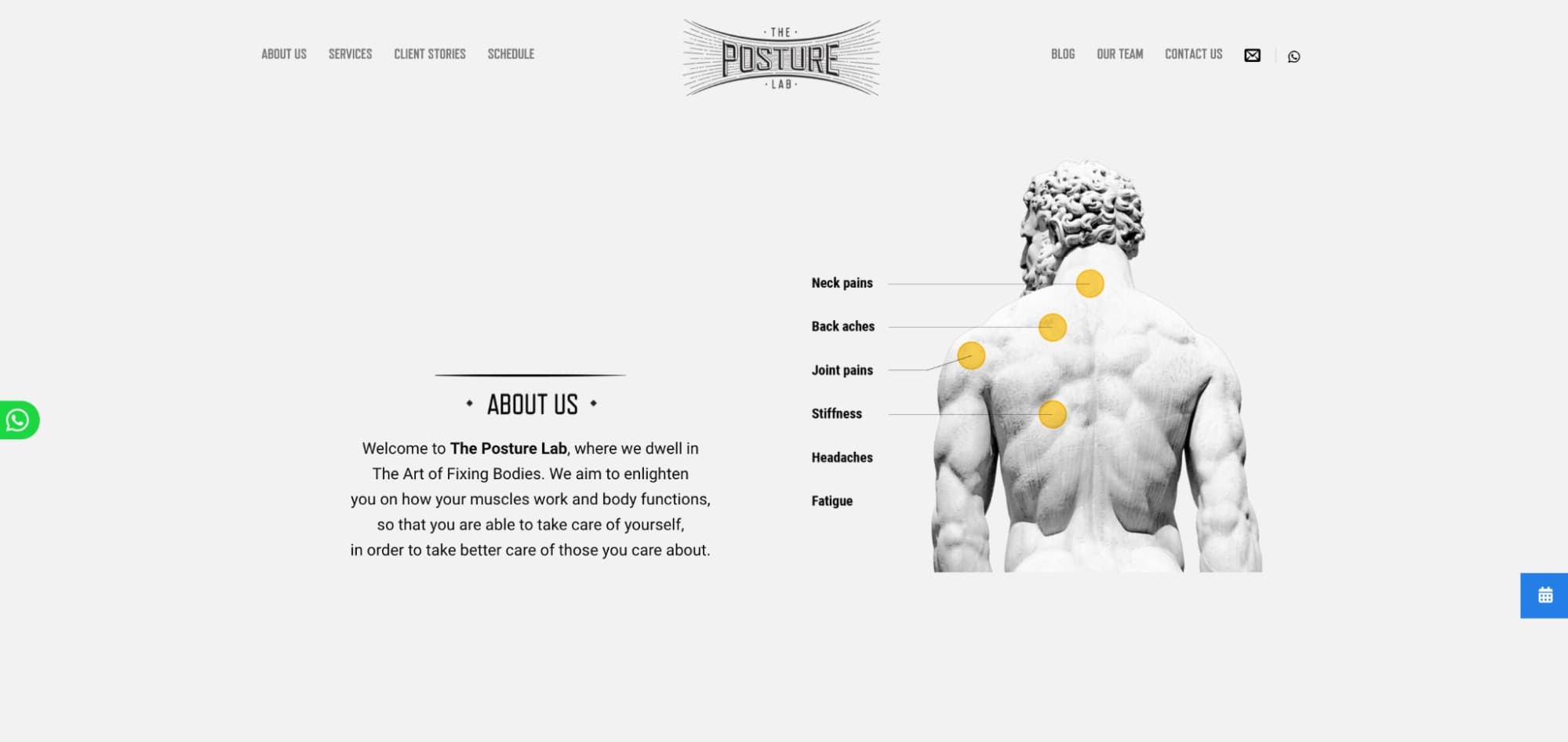 SERVICES
One-to-one fully customised training programme, sports massage, performance testing
WEBSITE
https://theposturelab.sg/
ADDRESS
31A Kreta Ayer Road, Singapore 088988
CONTACT DETAILS
+65 8792 7172 (WhatsApp)
OPERATING HOURS
Mon to Fri: 10:00 am to 9:00 pm
Sat: 10:00 am to 4:00 pm
You can probably guess that The Posture Lab's primary services literally focus on fixing postures. And if this is your utmost priority, then we recommend them for this specialty.
Unsure where to start? You can undergo a full posture screening to determine your body's muscular imbalances, core strength, presence of any joint dysfunctions, and incorrect movement patterns.
From there, a member of their team will give you a comprehensive postural assessment report, as well as a customised programme proposal based on their findings. You have the option to proceed with their one-to-one coaching programme, which is suitable for all levels of fitness.
What's special about The Posture Lab is that they also offer sport massage therapies for those who wish to relax after a tiring workout session.
Their services don't come cheap but you can schedule a 30-minute first-time trial of either a sports massage or personal training programme for a minimal fee.
Hands -down, if you want improved mobility in your everyday life, The Posture Lab could well be. the best personal training service in Singapore for you.
Ideal for posture correction
Ideal for athletes
Suitable for all fitness levels
Discounted rate for first-timers
Relatively expensive rates
Only one location available
Customer Reviews
Take a look at what some clients have to say about their services:
"Went for personal training with Emile. He was very patient and professional. I came out feeling edifies with new knowledge and also strengthened in all the right areas." —Andrew Dicom, Google Reviews
"The trainers at Posture Lab have helped me to strengthen both my body and my knowledge about healthy and correct exercise. They provide an intimate and professional environment which feels safe and allows for targeted exercise goals." —Elizabeth Chan, Google Reviews
12. Personal Trainer Solutions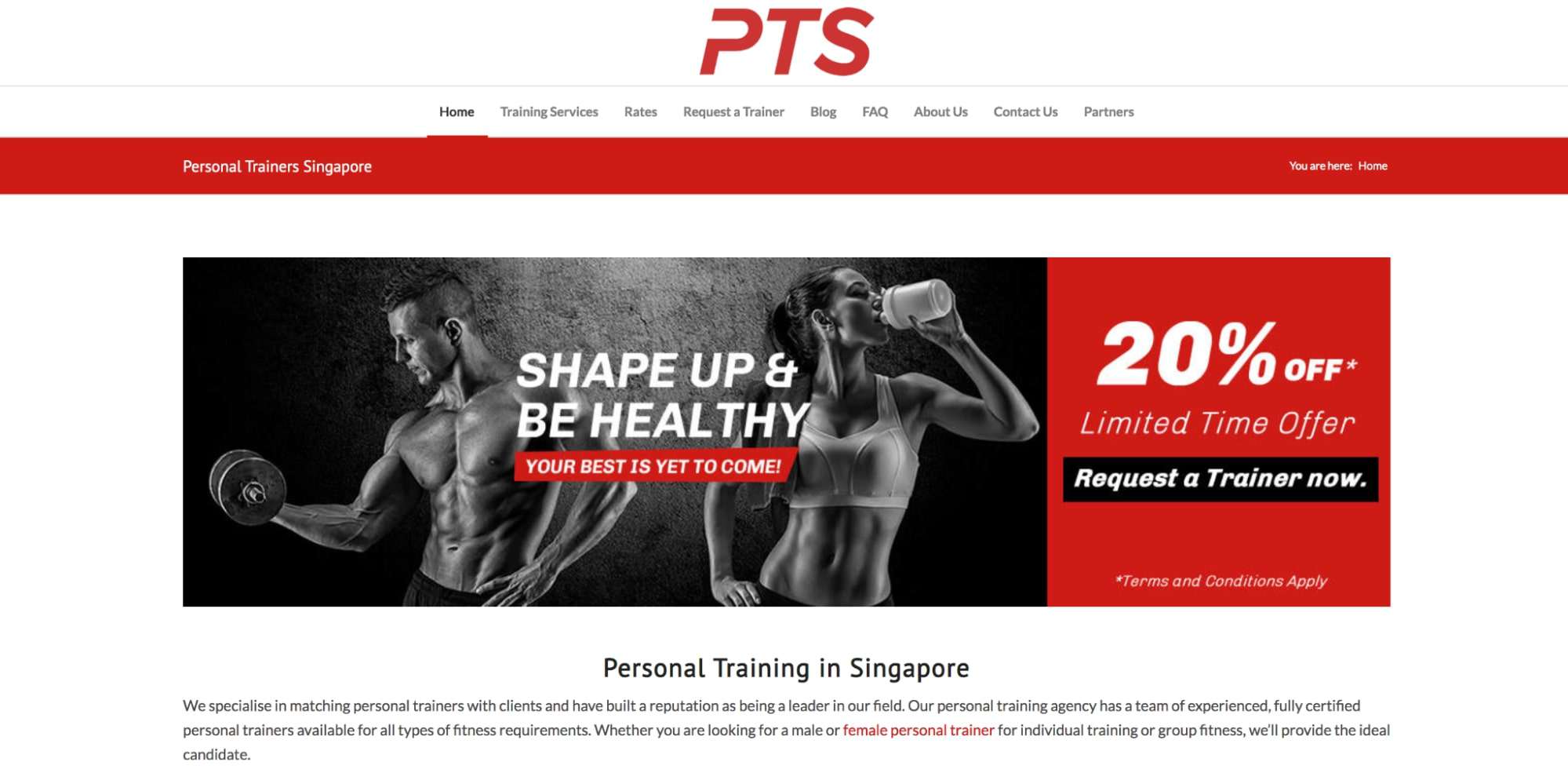 SERVICES
Weight and fat loss personal training, female personal training, home fitness training, pre/post-natal personal training, online personal training, fitness bootcamp training, corporate fitness/wellness programme
WEBSITE
https://www.pts.sg/
ADDRESS
Anywhere in Singapore
CONTACT DETAILS
+65 8751 0501 (tel.) or +65 8751 0501 (WhatsApp)
OPERATING HOURS
Mon to Fri: 9:00 am to 5:00 pm
Sat: 9:00 am to 1:00 pm
Personal Trainer Solutions (PTS) offers one of the most flexible training arrangements on our list. Their personal trainers can conduct training sessions at any location in Singapore including gyms, parks, beaches, or at your home.
If you're unsure which gym to go to, PTS has 2 partner gyms that you can go to: Marvel Fitness and The Festique Lab. These gyms have long operating hours: the latter is even open 24/7.
No need to worry about memberships in their partner gyms as they're open to PTS clients. While they don't offer free trial sessions, you can still get a free consultation over the phone to find out which training plan suits you.
Keep in mind that peak hours for training sessions are from 5:00 am to 10:00 am and 6:00 pm to 10:00 pm, and will have slightly higher rates compared to non-peak hours.
If your schedule is flexible, then we recommend going for non-peak hours, so you can also get your preferred trainer at no additional cost.
If you want 24/7 fitness training on hand, PTS is the best personal trainer in Singapore for you.
Services available anywhere in Singapore
No gym membership required
Free phone consultation
Affordable rates
Higher rates for peak hours
Minimum commitment of 4 sessions
Limited weekend hours
13. Gymboxx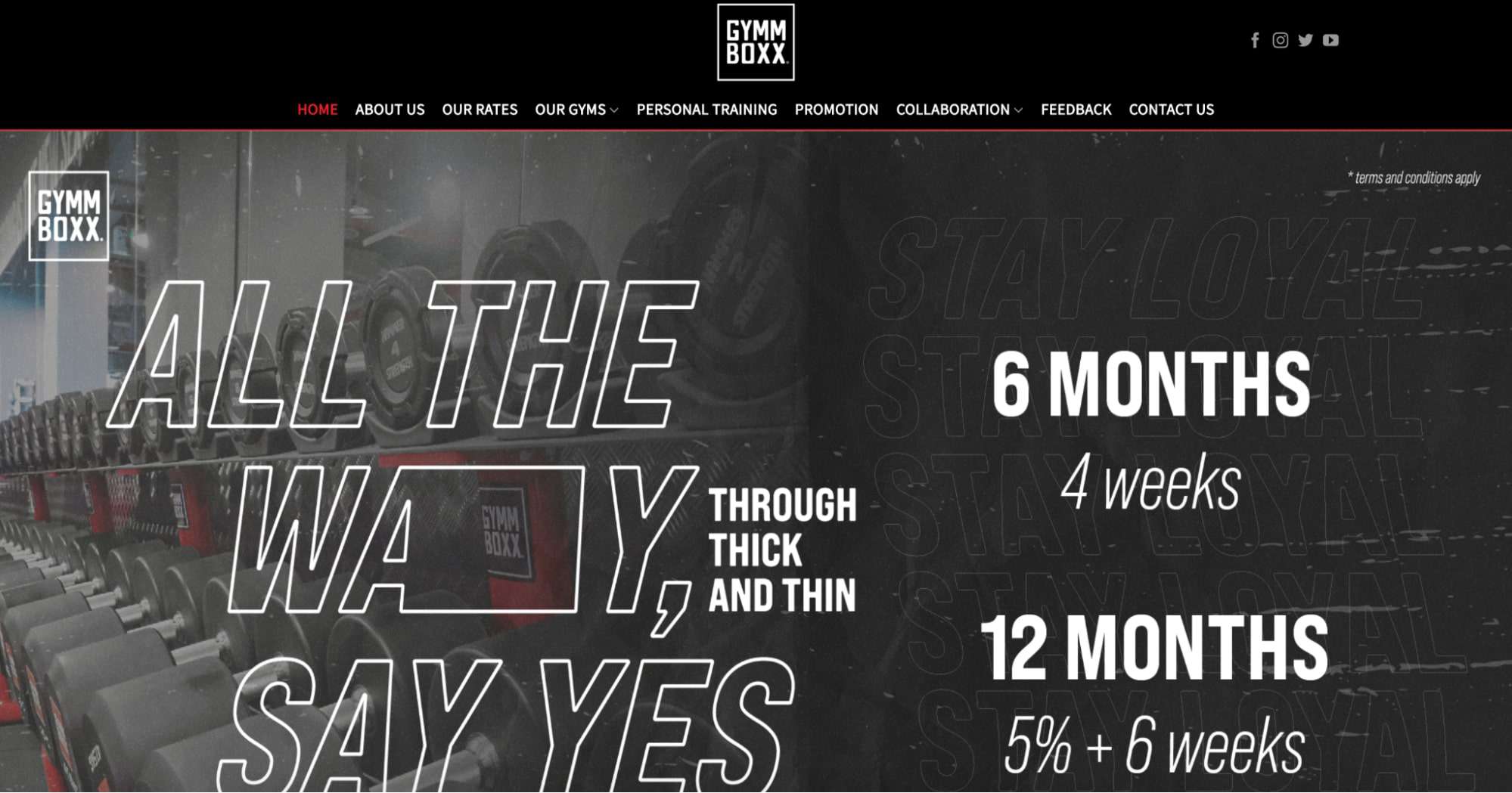 Gymboxx is the gym to choose if you're on a strict budget, as their personal training programme offers one of the most affordable rates on our list. While the gym is open to everyone, non-members still need to pay a minimal fee upon each entry.
Otherwise, monthly memberships are still pretty affordable compared to bigger and popular gyms. Members have access to all gyms in Singapore.
Since 2010, they've expanded from a single gym located at the top of a car park to more than 6 neighbourhood gyms scattered across the island. No need to travel all the way to the CBD just to access a gym.
To ensure the safety of its clients, Gymboxx is also the only manned 24-hour gym in Singapore. And while you can visit the gym during after-hours, take note that personal training services are strictly by appointment only.
Needless to say, their affordability is a big plus so if you are on a limited budget, Gymboxx is the best personal trainer in Singapore for you.
Several locations available
Affordable rates
Open 24/7
Discounts apply for students/senior citizens
After-hour gym assistance available
No initial sessions
Non-member entry fee applies
Sign-ups available on-site only
Customer Reviews
Sample comments about their services include the following:
"I received top notch service from a Sabrina Low (Kebun Baru branch). She was friendly, provided exceptional service; a morally excellent character overall! Hats off to Gymmboxx and their exquisite taste in employees!" —Aisha S., Google Reviews
"The place have some state of the arts equipment. Personally, I prefer to go at 3.30am, as I could go straight to work right after training, as there won't be much people around using the equipment, and I could train in peace with just my earbuds and music. But all in all… if you wanna target certain parts of your body and are unsure of what equipment to use? You can always get quality advice here from fellow gym goers." —Mark Jeffrey Sin, Google Reviews
14. Genesis Gym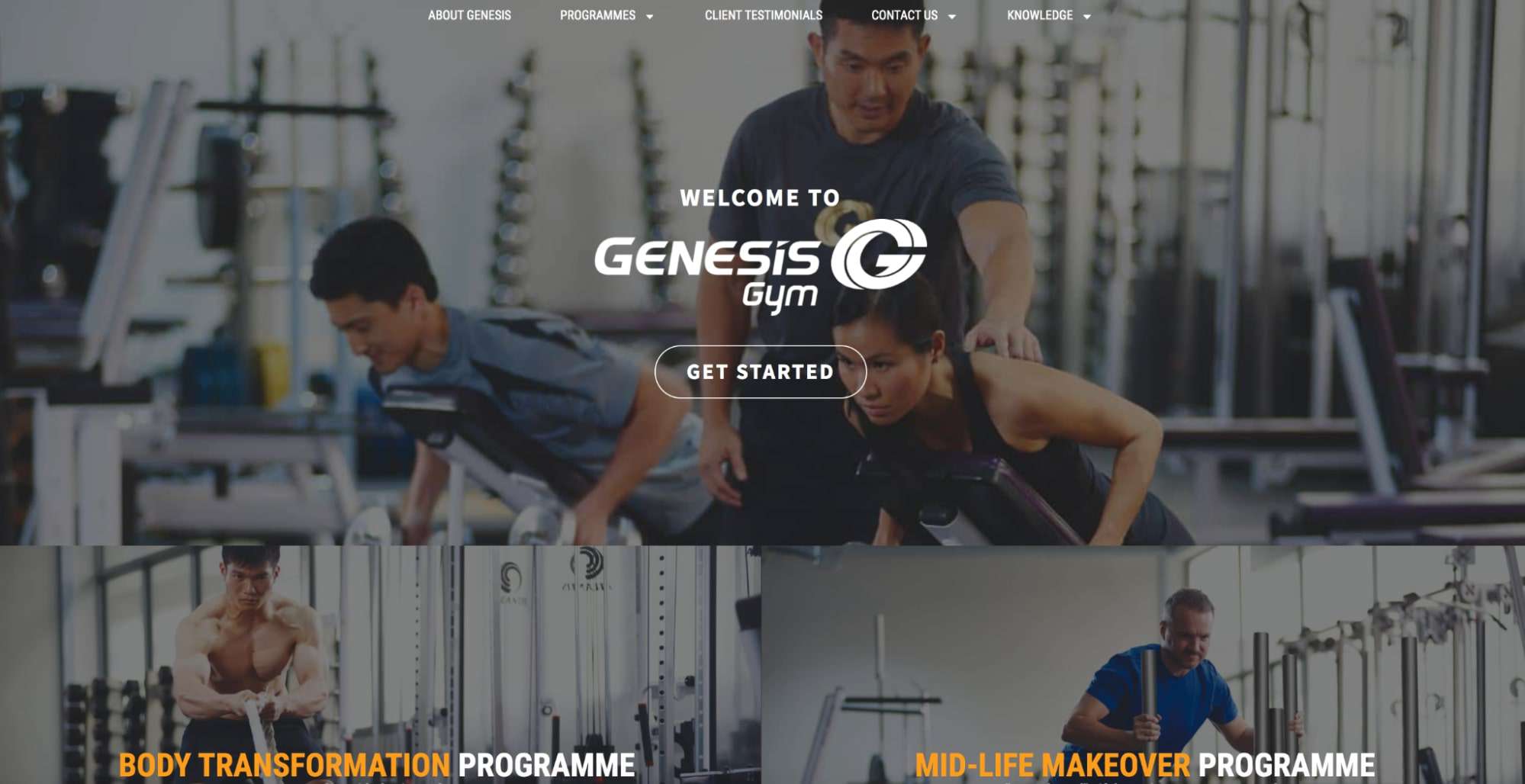 SERVICES
Body transformation programme, mid-life makeover programme
WEBSITE
https://genesisgym.com.sg/
ADDRESS
Nearest gym available here
CONTACT DETAILS
+65 9337 4188 (WhatsApp)


[email protected]

OPERATING HOURS
Mon to Fri: 7:30 am to 2:00 pm, 5:30 pm to 9:30 pm
Sat: 8:30 am to 1:00 pm
The star of Genesis Gym is its "Midlife Makeover" programme, which has proudly helped hundreds of people in their 30s and beyond achieve the body of their dreams. It's certainly what caught our eye!
It starts with a health assessment to identify potential injury risks and health roadblocks that could hamper the client's progress.
Once a carefully-designed plan is made, the programme will then focus on building lean muscles and metabolism, as well as boosting cardiovascular fitness.
Expect the programme to be conducted in a gym of your choice, followed by home workouts. The same flow can also be expected in their "Body Transformation" programme, which is designed for people below 30 years old.
We're big fans of gyms that are more inclusive in their approach. This is an easy gym to recommend to those fearful of encountering an overly young or sports-minded crowd at a regular fitness centre.
Like most gyms nowadays, you can schedule a free consultation with them on WhatsApp. Similarly, you can also have a chat with one of their trainers at their gym if you happen to pass by the area. Definitely the best personal training in Singapore for those on the go.
Ideal for ages 30 and above
Multiple accessible locations
Free consultation
Online programme available
Closed on Sundays
Limited hours on Saturdays
Rates unavailable online
Customer Reviews
We've handpicked some comments about their programmes from their website:
"I'm a walking advert for Genesis Gym Personal Training. I don't say anything – people just ask me how I got these results! It's possible even after age 40 and with my history of knee meniscus tear and blood pressure problems." —June Meng
"Genesis Gym's Body Transformation Personal Training Programme helped my body get lean, strong, flexible, balanced and injury-free. I highly recommend them to anybody who wants to maximize their size, definition and health." —Melvin Chia
15. Fitness Tutors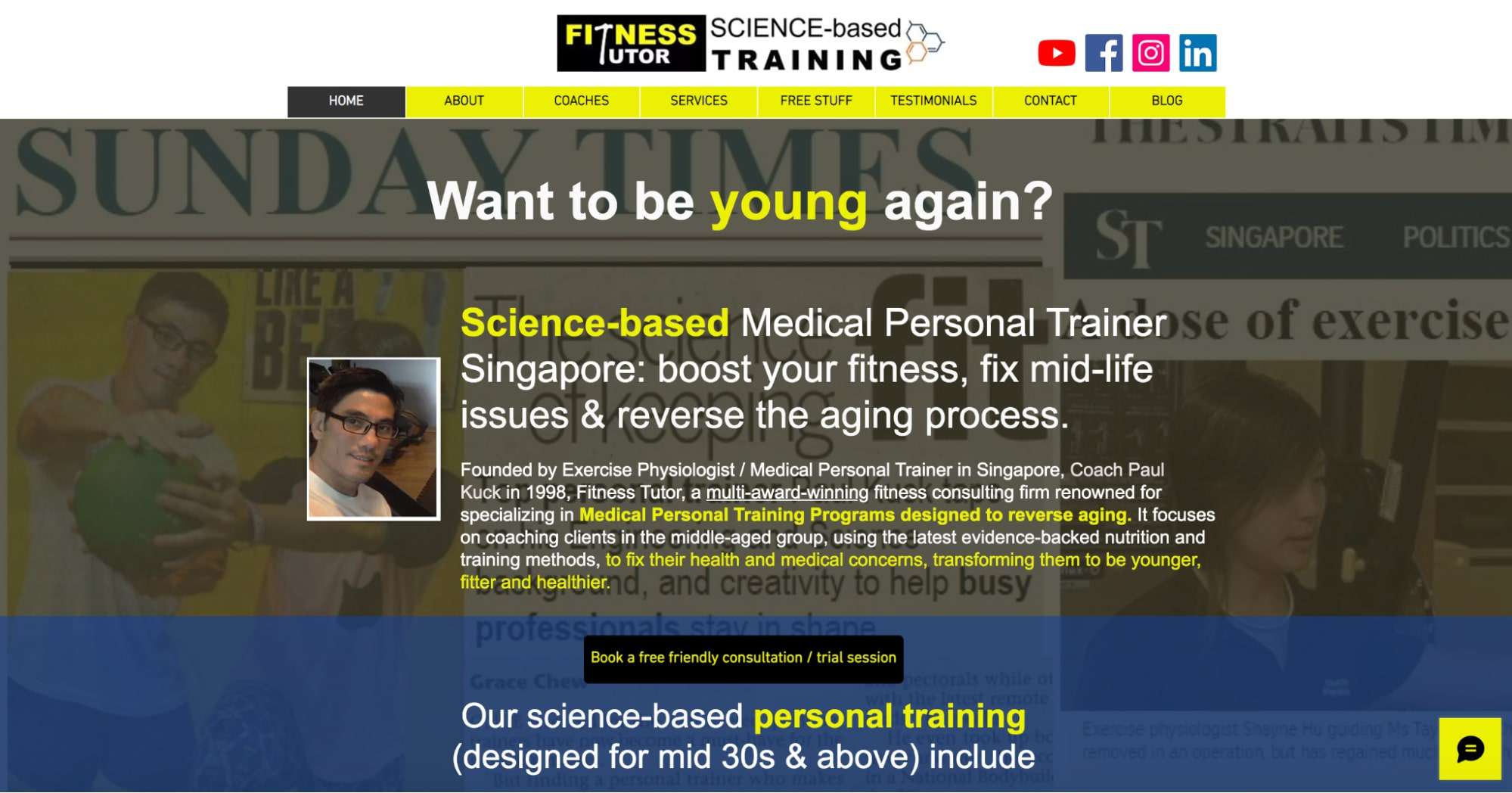 To anyone above 30 years old who has struggled with working out in the past, Fitness Tutors is another great option. They pride themselves on having a science-based approach to their training sessions, backed by their owner's background in physiology.
You can choose to train alone or with others through their semi-private training programme, which offers a more affordable personalised programme than private sessions. Take note that there is a minimum commitment of 10 sessions.
What's unique about Fitness Tutors is that they operate on a satisfaction guarantee policy. This means that clients who aren't satisfied with the programme or those who have been injured are entitled to a refund of unused training fees.
We also like the fact that their gym is family- and pet friendly, conveniently located near Holland Village. While the gym's accessible via public transport, you can also bring your car thanks to their free parking facility onsite.
If you like working out with your pets and fur babies, Fitness Tutors is easily the best personal trainer in Singapore for you.
Offers satisfaction guarantee
Family and pet-friendly facility
No gym membership required
Free initial session
Free parking
Convenient location
Walk-ins not allowed
Short hours on Sundays
Minimum commitment of 10 sessions
One location only
Customer Reviews
Check out what some former clients said about their programmes:
"I wanted to lose about 8 kg of weight and to become fitter overall and Paul of Fitness Tutor, seemed to fit the bill after I had done a considerable research around. No one else seems to pack the same amount of dedication, experience and credential as he does. I was proven right. Within a matter of weeks, I started to see and feel changes all over. Towards the second month of training, I had already lost about 12kg of fat and gained about 5 kg of muscles. I am at my ideal weight and am asking Paul to help me set new target to achieve." —George S., Google Reviews
"My wife and I have worked with a few trainers over the years but we never could settle with one that we both felt comfortable with. We started with Paul about 3 years ago and within a few months we were convinced that "he is the one" that we got him to train our 3 kids as well. Always approachable, and flexible to customize training to our needs. He is knowledgeable about fitness but doesn't push his approach down on you. As a family, we have seen our fitness level improve under him and more importantly, our kids loved training with him. We highly recommend Paul as your fitness coach/tutor." —Albert Lim, Google Reviews
16. Guru Fitness/Coach Sharm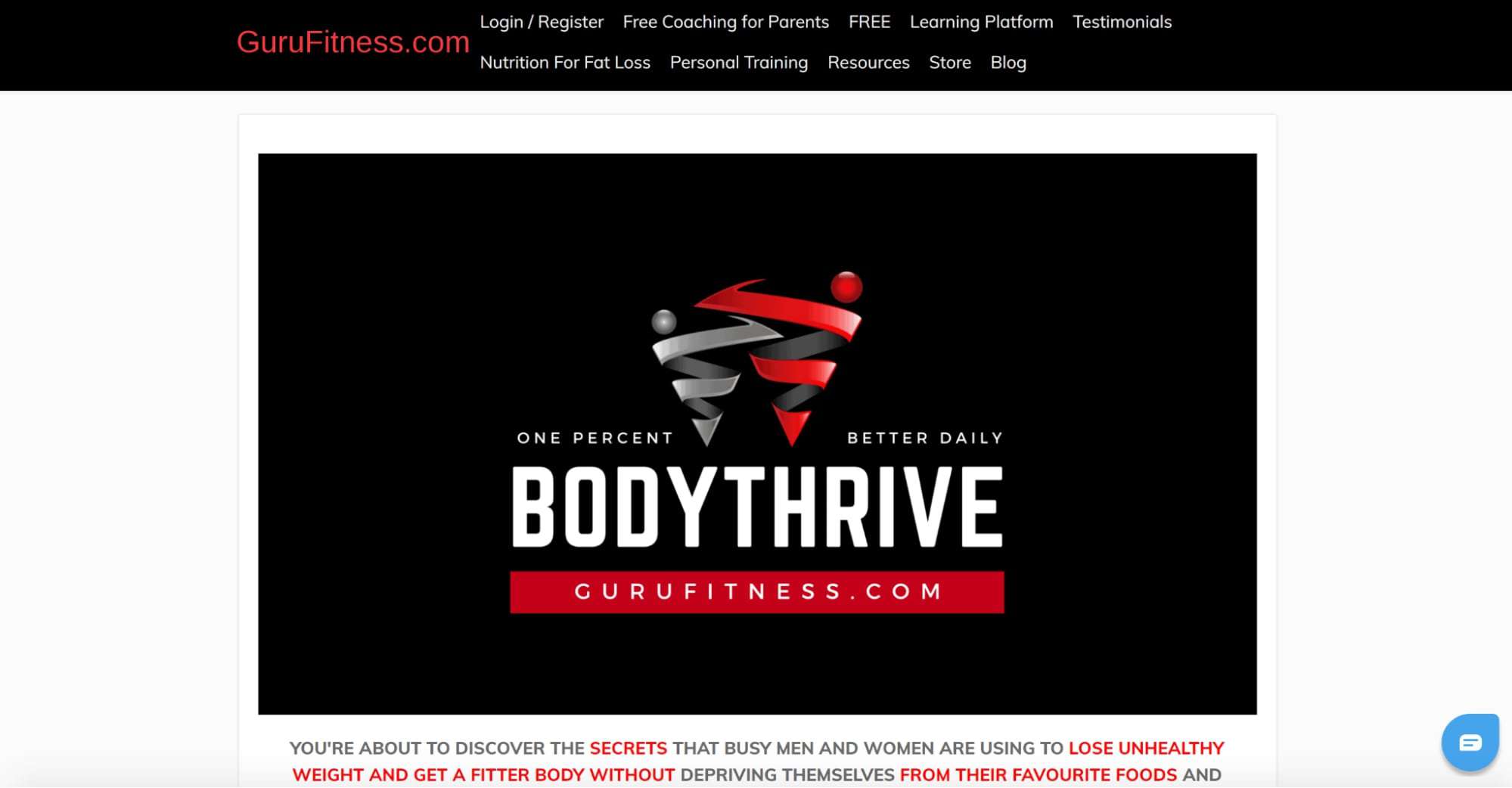 | | |
| --- | --- |
| SERVICES | Personalised training programmes |
| WEBSITE | https://www.gurufitness.com/ |
| ADDRESS | 100 Jalan Sultan, #03-10, Sultan Plaza, Singapore 199001 |
| CONTACT DETAILS | +65 9109 0995 (WhatsAApp) |
| OPERATING HOURS | Contact for more information |
Guru Fitness is Coach Sharm's passion-project-turned-business. Despite being a one-man team, Coach Sharm has built quite a reputation among locals and expats alike since 1993.
He can conduct personal training sessions in his studio or at your home. No need to worry about purchasing equipment as he can provide those for you during your session.
Beyond that, a lot of his programmes are conducted online through Zoom. These are ideal for those who wish to be active from the comfort of their home, yet don't want to splurge on personal training programmes.
Otherwise, his online personal training programme is still the most affordable on our list—perfect for those on a strict budget.
Coach Sharm is also one of the very few personal trainers in Singapore on our list who offers refunds to clients who aren't satisfied with his services. Just let him know at the end of the session and it will be considered free.
Due to his popularity and low rates, note that availability may be highly limited. If you want to secure a session ASAP, you can easily contact him through WhatsApp.
Wide range of programmes
Affordable rates
Offers satisfaction guarantee
Equipment provided
24/7 online support available
Limited availability due to high demand
Hours unavailable online
Customer Reviews
Check out a sample comment about Coach Sharm below:
"Coach Sharm is of a pleasing and cheerful disposition and commands good communication skills. He exercises exceptional patience in enlightening clients on exercise cum nutrition and the reasoning behind them.
He was able to see the broader objectives of my request. He exercised good judgement in assessing my lifestyle and nutrition needs and made recommendations to help me achieve the best. He devised an effective exercise cum nutrition programme that perfectly suited me.
While being approachable and amiable he is also firm and uncompromising when it comes to delivering high standards. It's a worthy investment and the outcome speaks for itself. I feel relaxed and look forward to the personalized one-to-one strength coaching session weekly. The session is well stretched and worth the price I paid.
It is always a pleasure to work with Coach Sharm. His support, reliability and promptness in response is highly commendable.
Thanks again Coach for being the wind beneath my wings and continuing doing what you are best at – Inspiring People!" —Roz Leezaro, Facebook
17. Fitness Bravo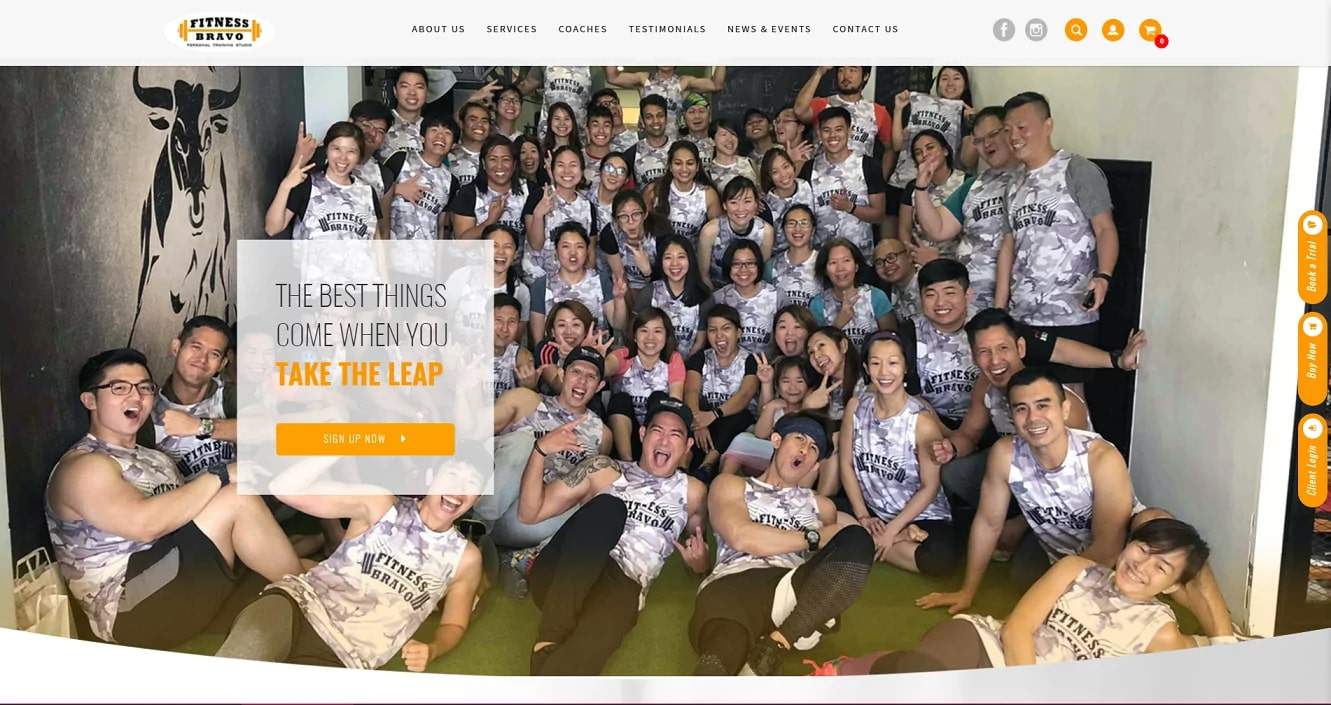 If you want to be surrounded by a small like-minded community who will encourage you to push harder, you can consider Fitness Bravo. Arrangements for personal training services in Singapore are pretty flexible, which can be conducted in their studio, at home, or online.
Apart from personal training sessions, they also have different fitness classes perfect for those who prefer group settings.
They have a relatively large team of instructors with different specialties for you to choose from. However, the male instructors vastly outnumber the females, so availability might be a challenge for clients who would be more comfortable with a female trainer.
What makes Fitness Bravo unique in our book is their payment system, which comes in the form of "credits" that can be used to avail any of their services, from classes to personal training sessions. This gives clients more flexibility with their workout arrangements.
You may notice that you won't find their operating hours anywhere online. That's because Fitness Bravo only opens on an appointment basis, much to the dismay of walk-ins.
Credits have 6-month validity
Large team of instructors
Flexible training arrangements
Affordable rates
Small number of female instructors
Strictly by appointment only
No walk-ins
Customer Reviews
Here's what some clients have to say about their services:
"Mindy always made sure that we had a good workout every PT session, tailoring the exercises to our objectives and switching stuff up/down so every session we practice exercises that we learnt before to improve in form and also incorporating new stuff along the way. Mindy is really professional and fun to train with! :)" —Mindy Chia, Google Reviews
"For me, consistency in exercising is a function of challenge, convenience and community. I've found all this at Fitness Bravo. Been a member since Jan 2018, the longest I've signed up for any gym. Really enjoy both their classes and PT. Special thanks to Mindy for helping me achieve my fitness goals!" —Andrei Oei, Google Reviews
18. Unreal Personal Training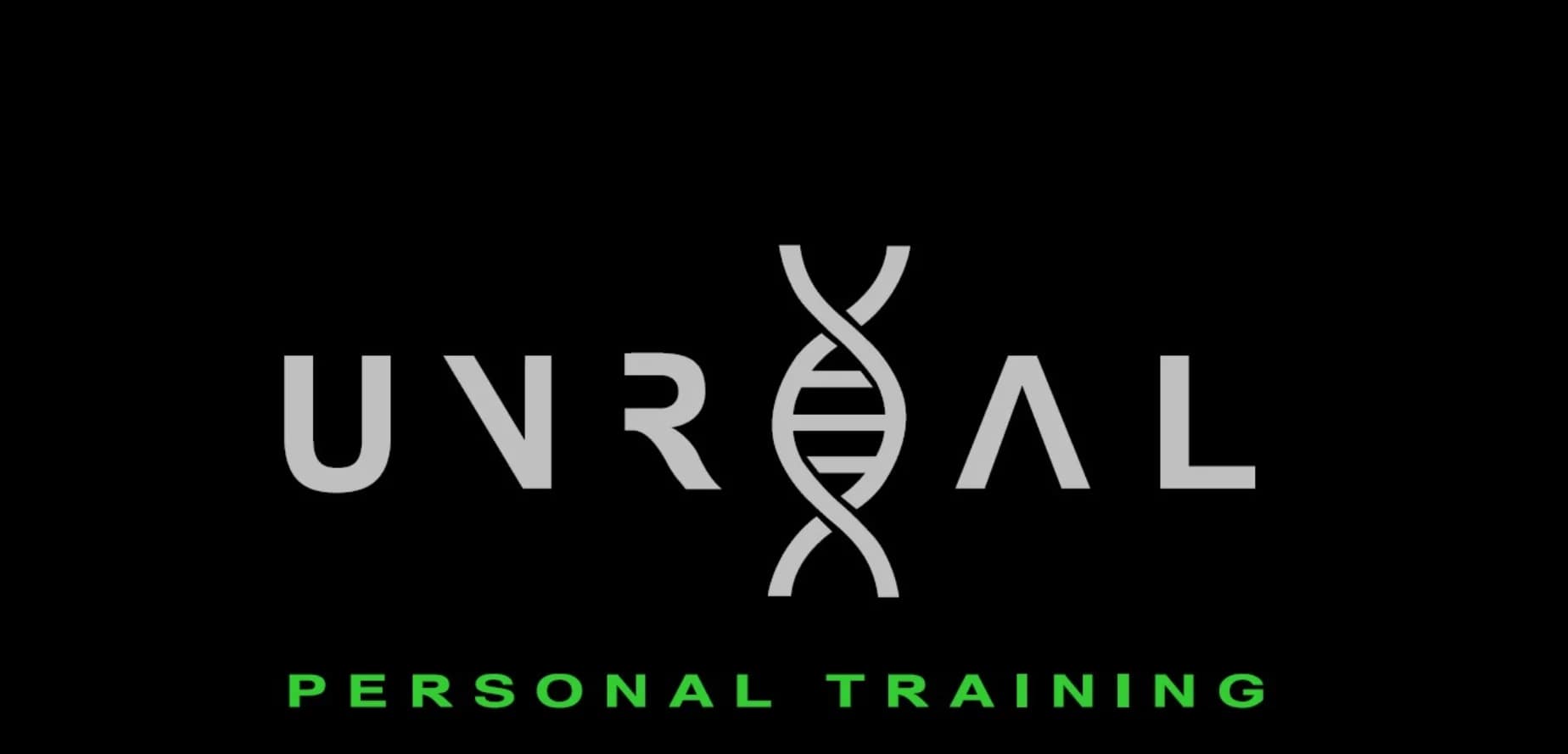 Unreal Personal Training may look like a luxurious studio at first glance, but they hope to accommodate clients with different budgets and needs by coming up with 3 tiers for their personal training programme.
Their personal training packages all come with a dedicated personal trainer and a customised workout and nutrition plan.
Premium packages have more inclusions such as access to group classes, partner gyms, and in-house supplements. However, this may be an unnecessary expense for those who simply want to fix their workout routine and diet.
While online programmes are available, we highly recommend attending sessions at their studio. It's a modern facility that boasts of state-of-the-art equipment and tools to give you that extra push and motivation during your workouts.
Small-sized group classes are also available for those who wish to put an extra 45 minutes to their workout routine. They're quite strict on no-shows and cancellations though, best to plan your schedule ahead of time if you want to avoid extra charges.
If you like the flexibility of having on-line and in-house training, then they could offer the best personal trainers in Singapore for you.
Modern facilities
Variety of packages available
Online programme available
Large team of trainers
Relatively expensive
Cancellation fees apply
No trial session
Closed on Sundays
Customer Reviews
Here's a glimpse of what some clients have to say about them:
"If you are looking to push yourself and get results this is the place! Just got some new machines in too. Staff and trainers are awesome. Not too crowded. Seb is the perfect personal trainer and will support you whatever your goals short or long term." —Chris Southgate, Google Reviews
"Great place to train! Trainers are very dedicated and take time to help you grow and learn the right form for the exercises. As most of them are competing bodybuilders by themselves they know what they are talking about. Since it is a private lessons only gym you never run into the problem of the gym being overcrowded. I can just recommend this place and the trainers for everyone who really want to improve and get results! 5 stars!" —Julian Mittag, Google Reviews
19. Fitluc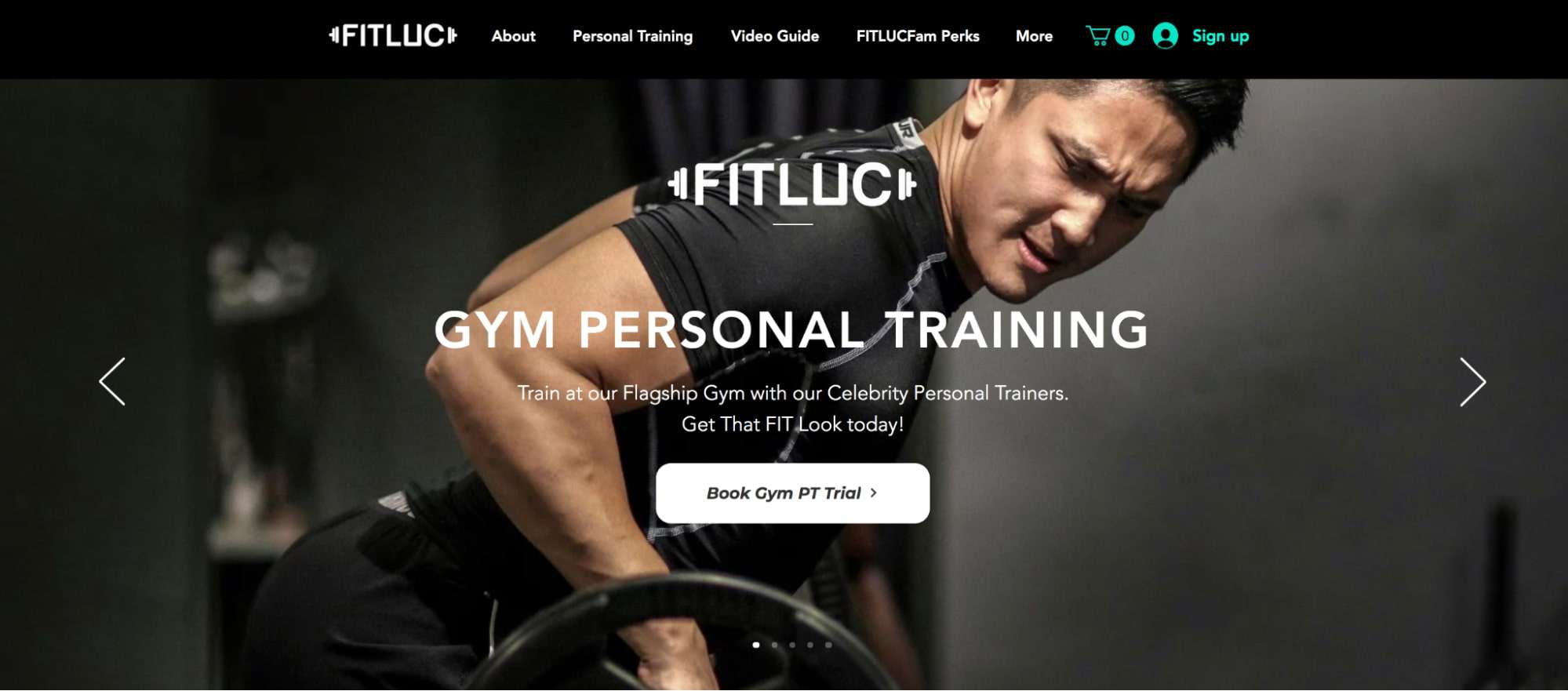 SERVICES
Gym personal training, home personal training, online personal training
WEBSITE
https://www.fitluc.com/
ADDRESS
21A Keong Saik Road, Singapore 089128
CONTACT DETAILS
+65 8812 0110 (WhatsApp)
OPERATING HOURS
Mon to Fri: 9:00 am to 9:00 pm
Sat to Sun: 9:00 am to 2:00 pm
Looking for a gym with personal training in Singapore that can accommodate everyone in your family? The trainers at Fitluc have worked with clients ranging from 13 to 84 years old, from all walks of life!
Like other entries on our list, they're quite flexible on personal training arrangements, too. They cater to house calls, live one-to-one sessions online, and in-person sessions in their flagship gym.
You can also book a trial for a separate fee if you're unsure whether to proceed with their services or not. Compared to other paid trials, though, Fitluc has a longer period, which takes about an hour and a half.
As it's located along Keong Saik Road, commuters can easily access the gym, which is only a 3-minute walk from Outram Park MRT Exit H. Parking is also available nearby along Bukit Pasoh and Teo Hong Road.
There are many restaurants within walking distance. So if you fancy a quick meal after your session, there are lots of choices in the neighbourhood.
In fact, Fitluc also offers discounted rates in certain restaurants and more through their membership programme.
Can accommodate a wide age range
Flexible programme arrangements
Accessible location
Nearby parking available
Membership discounts available
Limited weekend hours
No free trial session
Only one location available
Customer Reviews
Some comments about their programmes include the following:
"I was a beginner and had no experience in working out before. After training consistently for three times a week in six months, I was able to gain the knowledge and technique on how to train properly.
My trainer was experienced and knowledgeable. He was able to design a training regime and diet to suit my specific fitness goal. He would also provide scientific explanations for each exercise.
I personally think what differentiates Fitluc from other commercial gym is that they specialise in personal training where clients can build closer connection with their trainers which can make each training session fun and enjoyable." —Christopher Melvin, Google Reviews
"The aftermath of chemo/radiotherapy treatment caused my neck/shoulder/back much pain and aches. My gastric worsen to the point I didn't know what or how I should eat to avoid pain. Thankful to my personal trainer – lovely, gentle and caring EunSang. With her guidance, gastric pain no longer exist, neck/shoulder/back not as painful or sore like before. Her professionalism has gradually nursed me back to health." —Sofia D Lee, Google Reviews
20. JG Fit
SERVICES
Personal training, remote coaching, corporate wellness
WEBSITE
https://www.jgfitsg.com/
ADDRESS
Concorde Hotel Gym
100 Orchard Road, Singapore 238840

Centrum Gym Fit
Block 26 Building, 18 Sin Ming Ln, #06-07 Midview City, Singapore 573960

CONTACT DETAILS
​+65 9789 8963


[email protected]

OPERATING HOURS
Mon to Fri: 7:00 am to 10:00 pm
Sat to Sun: 7:00 am to 5:00 pm
JG Fit may only have 4 trainers but their diversity is what makes them a power team. From a trainer focused on female empowerment to a bodybuilding coach, you have the option to choose the most suitable one for you according to your goals and needs.
They don't have a physical location but you can ask them to travel to a location that you're comfortable with. You can also join them in one of their partner gyms—free from admission or membership fees.
What's also worth mentioning is that there are no expiry dates on any of their packages, unlike most gyms. There's no pressure to commit immediately if your circumstances don't allow you to.
We highly recommend their remote teaching programme designed by their team of millennial coaches specifically for a millennial audience.
It's a 3-month commitment that's charged per package, so you don't have to worry about spending for weekly sessions. They also offer refunds for clients who haven't achieved their goals within the timeframe.
If you want a more personal approach, JG Fit may offer you the bet personal trainers in Singapore.
Ideal for home-based training
Ideal for millennials
Offers satisfaction guarantee
No admission/membership fees
No package expiry dates
Limited availability due to small team
No trial sessions
Customer Reviews
Check out what past clients had to say about JG FIT:
"Jiewen and Gina are a pair of extremely friendly and spontaneous couple. I love their passions and fire when they are conducting classes which keeps groups or individuals motivated till the very end. They are very professional regardless in class or off class and they are always patiently attending to my burning questions. Would totally recommend them to the people around me." —Nigel Koh, Google Reviews
"JG Fit has a team of excellent trainers providing not just group workouts, but also personalised individual training. Their advice and consultation does not stop after the workout session, but it continues post-workout. Be it regarding self manageable exercises / diet, or even motivating the mental mindset, they consistently give their input to facilitate the overall well-being of their clients, which is why I highly recommend them." —Wei Fong, Google Reviews
21. Smartfit Pilates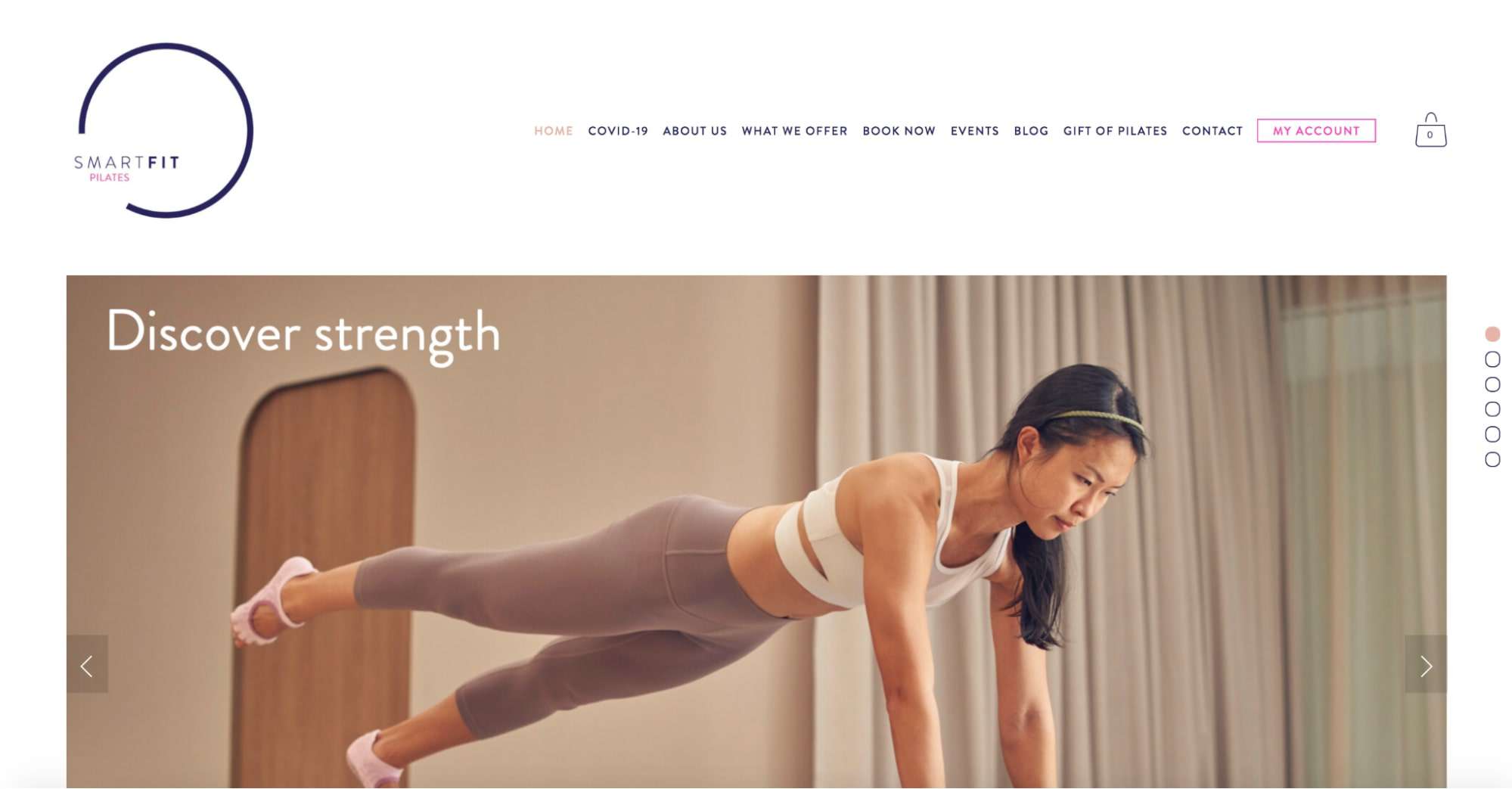 We can't help but put SmartFit Pilates on our list for 2 main reasons.
One, their programmes are flexible enough to accommodate private sessions for individuals and duos, plus small groups with a maximum of 6 people only.
Two, their pilates studio in Tanglin is gorgeous and Instagram worthy. It also houses Necessary Provisions—a rustic in-house café where guests can enjoy a drink after their pilates session.
Each private session at SmartFit begins with a postural assessment and discussion about what the client would like to achieve from their sessions.
This enables the instructor to create a personalised program for each client tailored to their needs, body, and goals. Whether you're recovering from an injury or staying active during a pregnancy, their team of instructors can help you with your needs.
What's also worth mentioning is that their variety of instructors are fluent in English, Mandarin, Korean, Hindi, and Bahasa, to name a few. Comfort is one of SmartFit's goals, and we can see how this diversity helps clients ease into a session.
Flexible class arrangements
Clean and comfortable studio
In-house café available
Instructors fluent in multiple languages
Promotions available
No group classes due to COVID-19 as of writing
No online personal training services
Customer Reviews
Here's what some clients have to say about SmartFit Pilates:
"Fantastic place to get fit and improve flexibility. They offer a range of classes, so it's very easy to find one that suits you. The expertise of the instructors is remarkable and the owners are very kind and loving. Would absolutely recommend coming to this studio!" —Louis Lau, Google Reviews
"Have been practicing Pilates here for about 3 months under Hui Lin. I'm a beginner so her dynamic stretching class is great for me. The studios on 1st and 4th floors were renovated and upgraded recently, and they also added a new cafe! Highly recommended." —Jason Ho, Google Reviews
22. Dennis Gym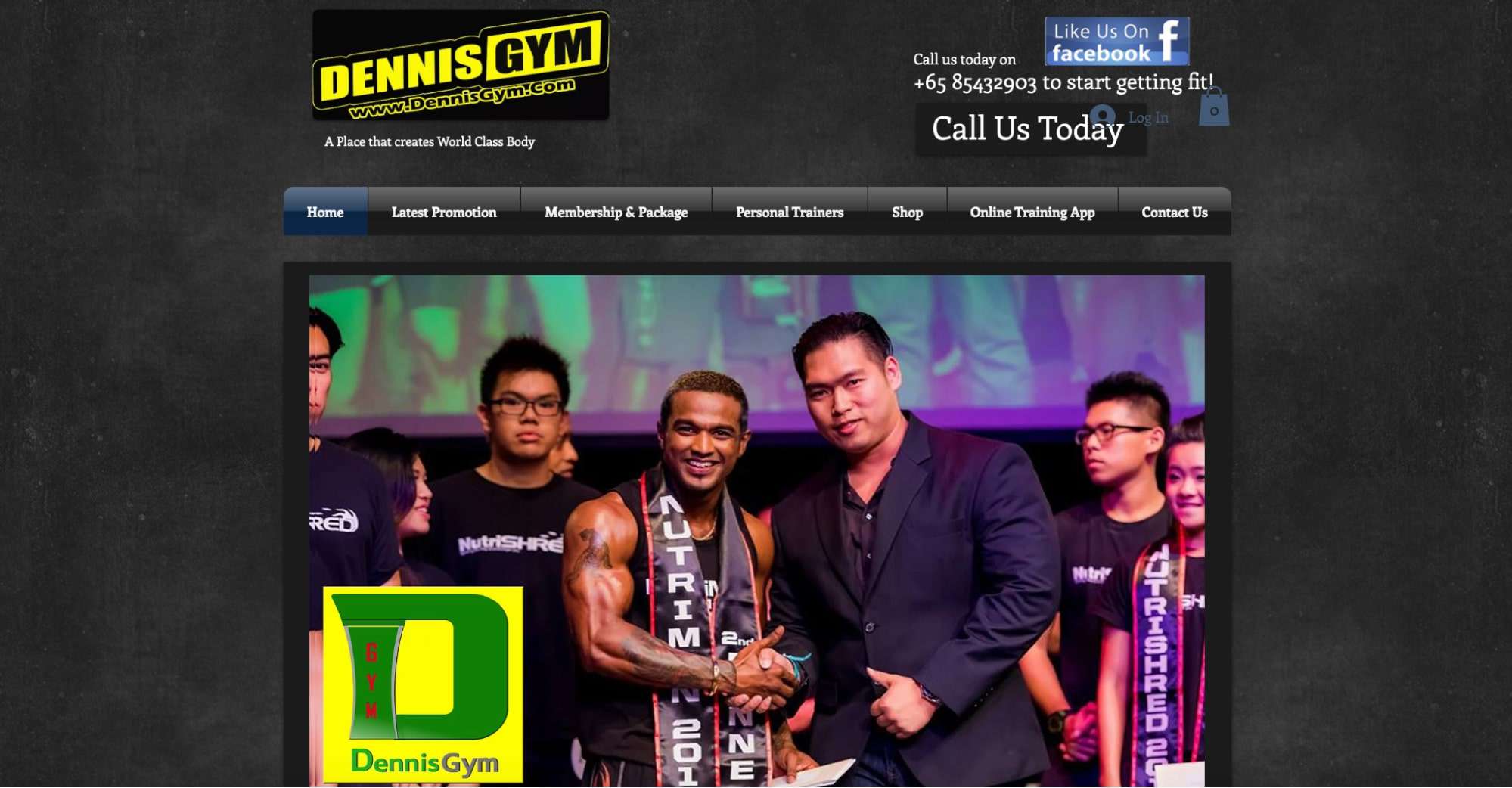 At Dennis Gym, personal trainers are handpicked by owner Dennis Tew—a former national fitness coach who has trained champions in sporting and bodybuilding competitions.
In fact, you can actually get personal training services under Dennis himself—for a premium price, of course. Otherwise, they offer an array of flexible gym memberships and on-site/online personalised training programmes to meet your budget and needs.
In comparison to our other entries, they have one of the most affordable personal training rates good for 3 sessions.
All gyms are open to members 24/7. And depending on your membership, you may have access to all gyms located around Singapore.
While personal training sessions include nutritional guidance, you can also opt for one of their standalone programmes that focus on lifestyle coaching. A trainer will not only help you plan your meals, but will also guide you through stress management and better sleeping habits.
If you want a lifestyle change, Dennis Gym could have the best personal trainers in Singapore for you.
Wide range of programmes available
Members have 24/7 gym access
Several branches across Singapore
Affordable personal training rates
No cancellations and refunds
No free initial session
Customer Reviews
Here's a glimpse of what clients said about their services:
"Clean and well-equipped gym! Professional trainer, Jesse, who always ensures the users are well-taken care of. Not pushy and very friendly. Jesse also tailors fitness plans to individuals and encourages people to improve for better results. Value-for-money gym and personal training sessions. Highly recommended!" —lamedot, Google Reviews
"Just opened, having been moved from Simei Community Club premises. Love the spaciousness, and well equipped gym. Manager cum trainer Jesse has paper qualifications so rest easy we are in good hands!" —Dennis Tan, Google Reviews
23. Level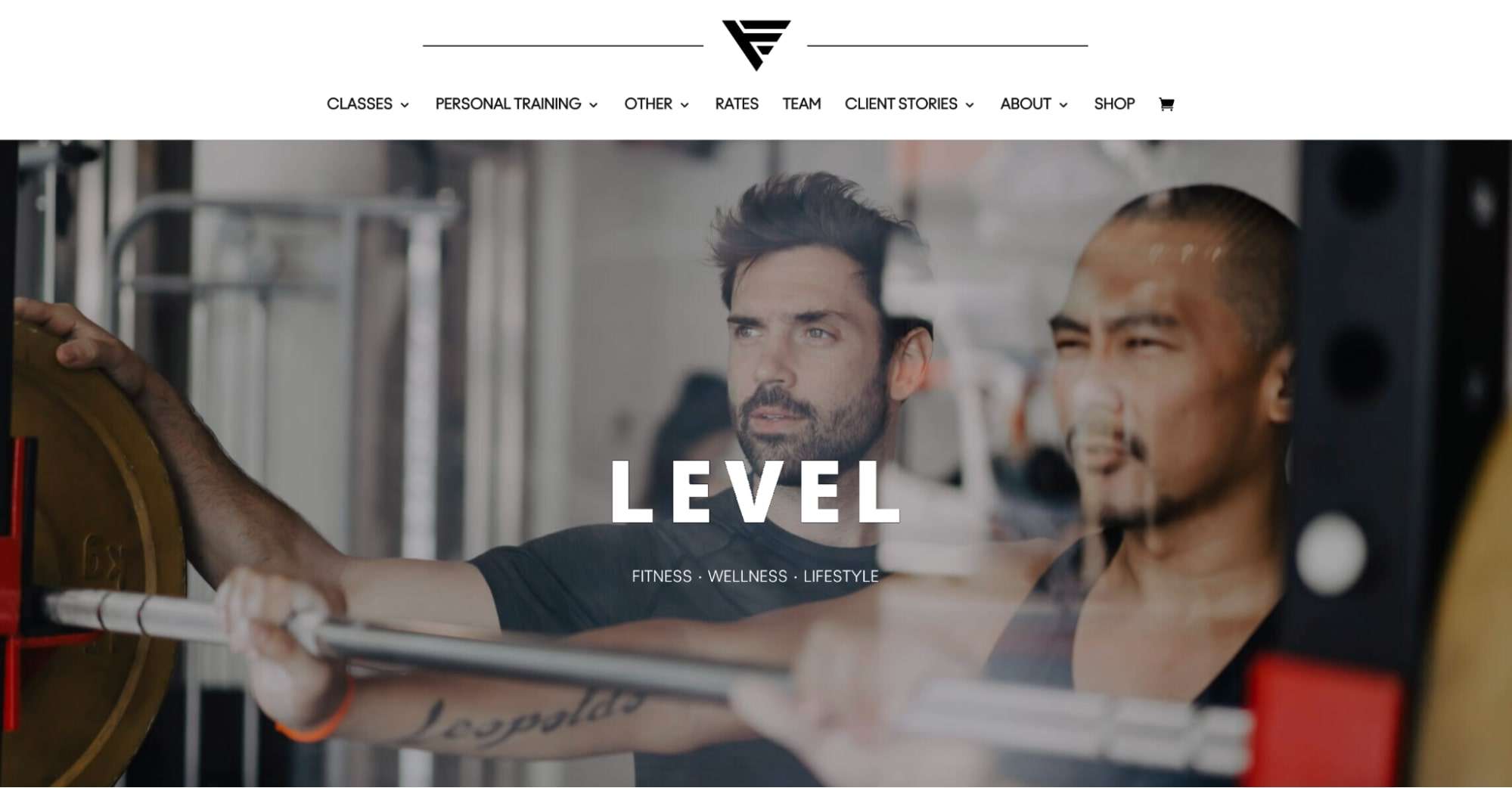 SERVICES
One-to-one personal training, pre/post-natal personal training
WEBSITE
https://level.com.sg/
ADDRESS
Telok Ayer
#01-03 137, Telok Ayer Street, Singapore 068602

Robinson
14 Robinson Road, Singapore 048545

CONTACT DETAILS
Telok Ayer
+65 6222 4766


[email protected]

Robinson
+65 6787 9560
[email protected]

OPERATING HOURS
Telok Ayer
Mon to Fri: 7:00 am to 8:00 pm
Sat & Sun: 7:00 am to 12:00 pm

Robinson
Mon to Fri: 7:00 am to 8:30 pm
Sat & Sun: 7:00 am to 12:00 pm
Level is more than just your local gym. It is also a place where you can improve your health and lifestyle while having fun solo or with friends.
The gym takes pride in their team of world-class personal trainers who vow to help people achieve their body goals in the most fun way. If you are enthusiastic and have high energy levels, or think you need high energy environment, this could be the best personal trainer in Singapore for you.
Level's philosophy revolves around functional fitness and sustainable training, emphasizing fundamentals, not fads.
Unlike transformation gyms, Level believes in consistency, not extreme effort, in order for clients to train sustainably and remain injury-free.
Online programmes available
Indoor and outdoor classes available
Two accessible locations
Free initial personal training session
Large team of trainers
Short weekend hours
No-show and cancellation penalties apply
Customer Reviews
Here's what some clients have to say about their services:
"Working out at Level is pretty much one of the best choices I made for my fitness. It keeps me on my toes and the grind is well worth it. The trainers are experienced and they know how to push you to your limit, within safe standards. Definitely would recommend to any of my friends."
"I signed up for personal training sessions with Bryan while recovering from hamstring injury. With a personalized and well designed plan, I was able to recover and strengthen my hamstring. I am able to squat and do hinge movements with weights progressively. I have also started boxing now. Bryan is very friendly, experienced and communicates effectively. I would highly recommend him to anyone who need help with injury management/ personal training. World class training!! Thank you Bryan!!" —Sabreen Kaur, Google Reviews
FAQs about Personal Trainers in Singapore
---
And that concludes our list of the best personal trainers in Singapore! We hope our guide helped you get one step closer to your fitness goals.
If you think we missed an excellent personal trainer, feel free to send us an email and we'll look right into it!
To give you more options for your fitness journey, you can also check out our list of the best gym memberships in Singapore.